Grilled Eggplant Parmesan
Tell a Friend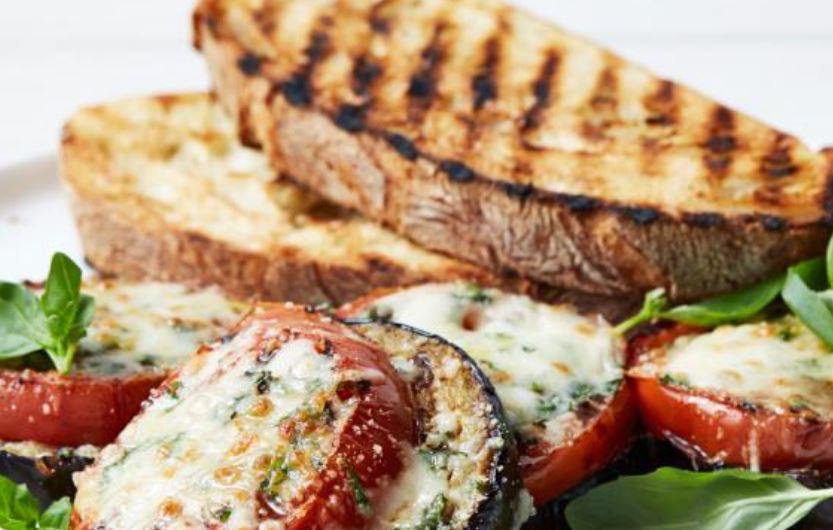 Brief Description

Lighter version of eggplant parmesan made on the grill.

Main Ingredient

eggplant

Recipe Type: Public

Tags:
Ingredients:
1/3 cups - extra-virgin olive oil, plus more for oiling the grill grate and drizzling
2 cloves - garlic, minced
1 - medium eggplant
2 - medium tomatoes
- kosher salt
1/4 cups - grated Parmesan
1 tablespoons - chopped fresh basil, plus torn leaves for garnish
8 slices - rustic country bread
1 cups - shredded mozzarella
- balsamic vinegar, for drizzling
Directions:
Prepare a grill or grill pan for cooking over medium heat.
In a small bowl, stir together the olive oil and garlic.
Slice the eggplant into eight 1/2-inch-thick rounds. Slice each of the tomatoes into four 1/2-inch-thick rounds. Put the slices on a baking sheet, and brush them on both sides with the garlic oil; continue brushing until all the oil is used, being especially generous with the eggplant. Sprinkle both sides with salt. Let sit 5 minutes to allow the eggplant to fully absorb the oil and salt.
Mix the Parmesan and chopped basil together in a small bowl.
Lightly oil the grill grates. Grill the bread slices until they have developed grill marks and a little bit of char, about 1 minute per side. Remove from the grill, drizzle with olive oil and set aside.
Grill the eggplant and tomato rounds, covered, until grill marks appear, about 4 minutes. Flip the eggplant rounds with a spatula, and place 1 tomato round on top of each. Top each stack with some of the Parmesan-basil mixture and the mozzarella. Grill, covered, to finish cooking the eggplant and to melt the mozzarella, about 4 minutes.
Garnish the eggplant Parmesan stacks with torn basil leaves and drizzle with balsamic vinegar. Serve with the grilled bread on the side.
Hyperlinks:
https://www.foodnetwork.com/recipes/grilled-eggplant-parmesan-3415031
---