Grandma's Applesauce
Tell a Friend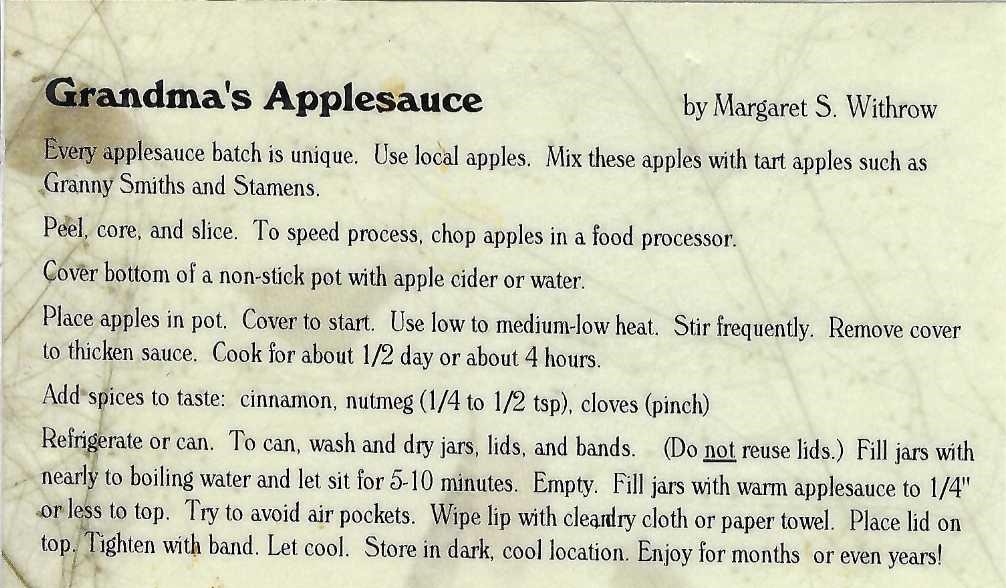 Brief Description

Every applesauce batch is unique. Use local apples. Mix these apples with tart apples such as Granny Smiths or Stamens.

Main Ingredient

Apples

Recipe Type: Public

Source:

Tags:

Notes:
Ingredients:
- Apples
- Apple cider or water
1/4 teaspoons - Cinnamon (1/4 to 1/2 tsp)
1/4 teaspoons - Nutmeg (1/4 to 1/2 tsp)
1 pinchs - Cloves
Directions:
Peel core and slice the apples. To speed the process, chop apples in a food processor.
Cover bottom of a non-stick pot with apple cider or water. Place apples in pot. Cover to start. Use low to medium-low heat. Stir frequently. Remove cover to thicken sauce. Cook for about 1/2 day or about 4 hours.
Add spices (cinnamon, nutmeg, cloves) to taste.
Refrigerate or can.
To can, wash and dry jars, lids and bands. (Do NOT reuse lids.) Fill jars with nearly to boiling water and let sit for 5-10 minutes. Empty. Fill jars with warm applesauce to 1/4" or less to top. Try to avoid air pockets. Wipe lid with clean/dry cloth or paper towel. Place lid on top. Tighten with band. Let cool. Store in dark, cool location. Enjoy for months or even years.
---