FF Slow Cooker Pesto Chicken
Tell a Friend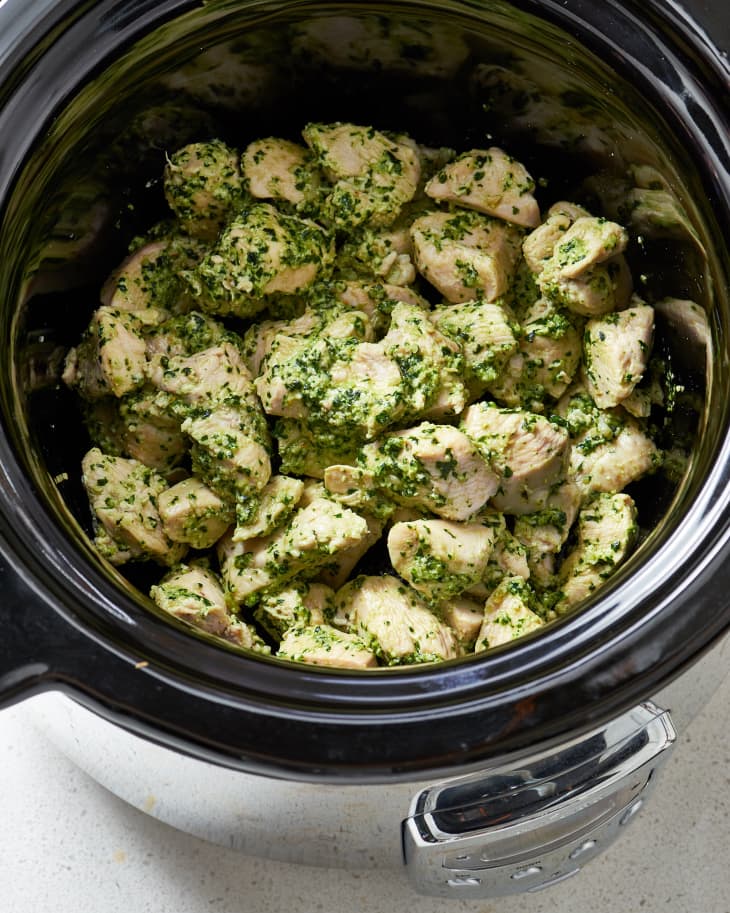 Main Ingredient

chicken

Recipe Type: Public

Tags:
Ingredients:
1 cloves - Garlic
1 cups - Basil Leaves
1/4 cups - Toasted Pine Nuts
2 tablespoons - Olive Oil
1 teaspoons - Salt
2 pounds - Chicken Breasts
1/2 teaspoons - Pepper
1 cups - Cherry Tomatoes
Directions:
1. Pulse the garlic in a food processor fitted with the blade attachment until coarsely chopped, 5 to 6 pulses. Add 1/2 the basil and pulse until the leaves are coarsely chopped, 5 to 6 pulses. Add the remaining basil and pine nuts. Pulse into a coarse paste, 10 to 12 pulses. Add the oil and 1/4 teaspoon of the salt. Pulse until just combined into a coarse paste; set aside.
2. Season the chicken breasts with the remaining 3/4 teaspoon salt and the pepper. Place the chicken in a 3- to 5-quart slow cooker. Add 3 tablespoons of the pesto and toss to combine. Place the remaining pesto in the refrigerator.
3. Cover and cook on the LOW setting until the chicken is cooked through, registering 165°F on an instant-read thermometer, 1 1/2 to 2 1/2 hours. If desired, stir the tomatoes in during the final 30 minutes of cooking.
4.Uncover and stir in the reserved pesto. To serve, toss with cooked pasta, serve on a sandwich bun, tuck in a wrap, or serve on top of cooked rice or cauliflower rice.
Hyperlinks:
https://www.thekitchn.com/slow-cooker-pesto-chicken-recipe-256185
---