Extra Juicy Turkey Burgers
Tell a Friend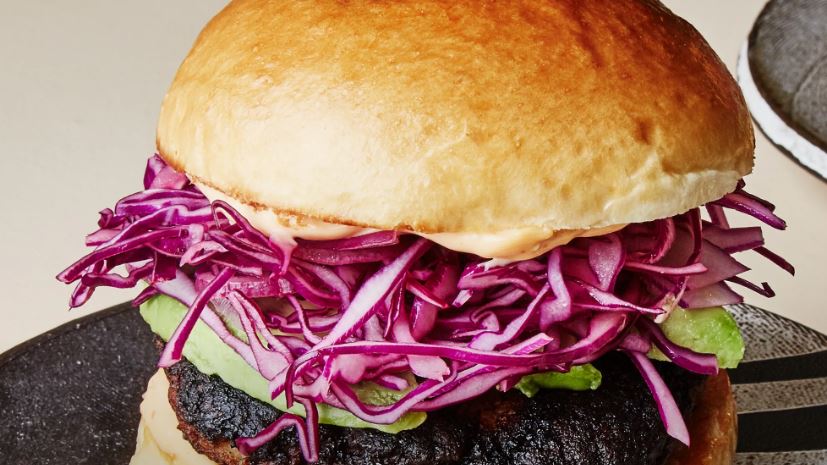 Brief Description

Mashing avocado with the turkey mixture makes these burgers juicy and not dry.

Main Ingredient

ground turkey

Recipe Type: Public

Tags:
Ingredients:
2 - avocados, divided
2 teaspoons - Worcestershire sauce
1 teaspoons - garlic powder
1 teaspoons - ground cumin
3 tablespoons - plus 1/2 cup mayonnaise
4 teaspoons - Sriracha, divided
1 1/2 teaspoons - kosher salt, plus more
1/2 - medium red onion, divided
1 pounds - ground turkey
4 tablespoons - extra-virgin olive oil, divided - plus more for greasing
3 cups - very thinly sliced red cabbage (from 1/4 medium head)
2 tablespoons - fresh lime juice, divided
4 - hamburger buns, toasted
Directions:
Mash half of 1 avocado with a fork in a medium bowl until smooth (reserve remaining half for topping burger). Add Worcestershire, garlic powder, cumin, 3 tablespoons of mayonnaise, 2 teaspoons Sriracha, and 1½ teaspoons of salt. Grate half of the onion (as in, half of the half, or one-quarter of the whole) on the medium holes of a box grater into bowl. Mix with a fork to combine. Add turkey and mix thoroughly with clean hands until mixture is combined (it will feel very wet and soft, which is okay).
Drizzle 1 tablespoon of oil onto a large plate. Using oiled hands, form turkey mixture into 4 balls, placing each on the plate, and pressing down into patties 4–4½" across (they'll shrink as they cook). Chill, uncovered, for at least 10 minutes and up to 2 hours to help keep them firm. If chilling for more than 2 hours, cover with plastic wrap and chill for up to 2 days.
Meanwhile, stir together the remaining ½ cup mayonnaise and 2 teaspoons Sriracha in a small bowl and season with a pinch of salt.
Thinly slice the remaining onion and toss it with cabbage in a medium bowl.
Heat 2 tablespoons of oil in a large nonstick skillet over medium heat. One by one, carefully slide patties off plate into the skillet. Cook, shaking the skillet a couple of times to make sure patties aren't sticking, but not pressing down on them, until they are dark brown underneath - about 5 minutes. Turn and cook on second side until burgers are fully cooked, about 5 minutes more. Transfer to a wire rack and let rest while you finish assembling.
Thinly slice remaining 1½ avocados. Add lime juice and remaining 1 tablespoons oil to cabbage mixture and toss to combine; season with salt.
Divide Sriracha mayo among cut sides of buns, spreading to edges. Place patties on bottom buns, then shingle the avocado slices over top. Heap slaw over avocado, then top burgers with top buns.
Hyperlinks:
https://www.bonappetit.com/recipe/extra-juicy-turkey-burgers
---