Eggs Benedict Casserole
Tell a Friend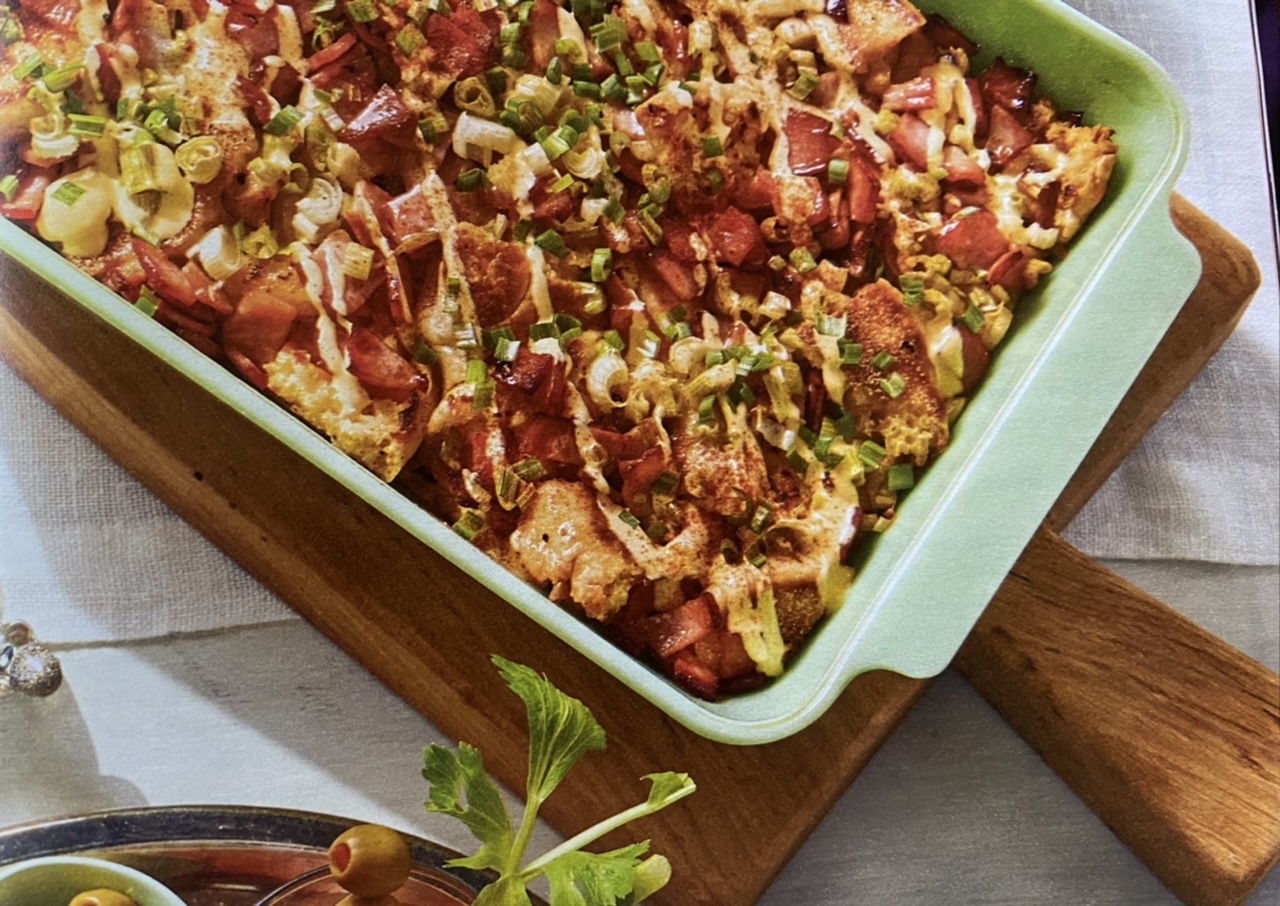 Brief Description

Make this casserole the night before and refrigerate until time to bake it in the morning for breakfast.

Main Ingredient

canadian bacon

Recipe Type: Public

Notes:

Posted By: mcarr
Ingredients:
1 tablespoons - vegetable oil
8 ounces - Canadian bacon slices chopped
6 - English muffins split
1 bunches - scallions white and green parts separated
6 - large eggs
2 cups - whole milk
3/4 teaspoons - black pepper
1 teaspoons - salt
1 cups - unsalted butter
6 - large egg yolks
2 tablespoons - fresh lemon juice (from 1 lemon)
1 tablespoons - Dijon mustard
1 teaspoons - salt
1/4 teaspoons - paprika plus more for garnish
Directions:
For Casserole:
Heat oil in a large nonstick skillet over medium-high heat; add bacon and cook, stirring often, until lightly browned - about 4 minutes. Remove bacon with a slotted spoon to a paper-towel-lined plate, leaving drippings in skillet.
Return skillet to medium-high heat. Working in batches, add English muffin halves, cut sides down, to hot drippings in skillet. Cook until toasted, about 1 minute; left muffin halves cool slightly.
Chop English muffin halves into bite-size pieces and place on bottom of lightly greased 9-x-13-inch baking dish. Sprinkle with cooked bacon. Finely chop white parts of scallions and sprinkle over mixture in dish. Wrap green parts of scallion in damp paper towel; chill until ready to use).
Whisk together whole milk, eggs, milk, pepper and salt in a large bowl. Pour over the mixture in the baking dish; cover with plastic wrap and chill for at least 8 hours or up to 16 hours.
Preheat oven to 350 degrees F. Let casserole stand at room temperature while oven preheats. Bake until top is browned and casserole is set, about 40 minutes.
Meanwhile, make hollandaise sauce:
Melt butter in small skillet over medium-low heat. Keep butter hot over lowest heat (do not let it brown). Process egg yolks, lemon juice, mustard, paprika and salt in blender on medium just to combine, about 5 seconds. With blender running on medium speed, slowly pour hot, melted butter through center opening in blender lid. Process mixture until it is smooth and thick, about 1 minute.
Drizzle about 1/2 cup hollandaise sauce over warm casserole. Finely chop the reserved green scallion parts and sprinkle over the top. Sprinkle with paprika and serve with remaining hollandaise.
---