Egg Ring Easter Bread
Tell a Friend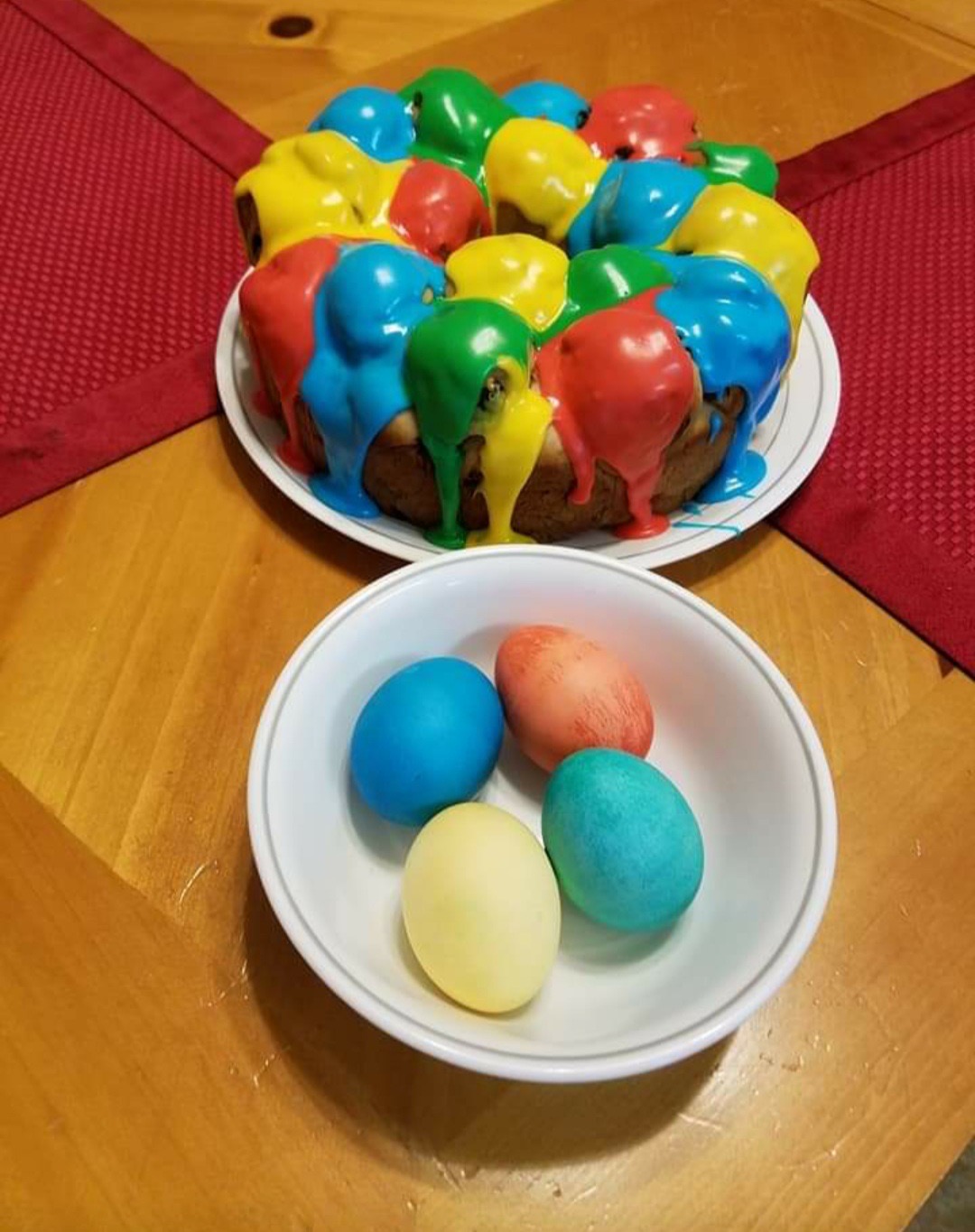 Brief Description

Easter bread that resembles a nest of easter eggs when baked and frosted; maraschino cherries, raisin and pecans are baked in.

Main Ingredient

flour

Recipe Type: Public

Tags:

Notes:

A family recipe shared with me by Catherine Johnson of Travel Creations.

Posted By: mcarr
Ingredients:
Easter Ring Bread
5 cups - flour
10 - maraschino cherries, chopped
1/2 cups - pecans, coarsely chopped
1/2 cups - milk
3/4 cups - sugar
1 1/2 teaspoons - salt
1/3 cups - shortening
2 packages - active dry yeast
1/2 cups - warm water
3 - eggs
3/4 cups - raisins
Confectioners' Frosting
2 cups - sifted powdered sugar
1/2 teaspoons - vanilla
2 tablespoons - milk (or orange juice)
- food coloring, multiple colors - as desired
Directions:
Sift the flour. Measure it out and set aside. Cut maraschino cherries into small pieces; chop pecans coarsely and set aside.
Heat milk until a skin forms across the top, but do not boil. Stir in sugar, salt and shortening. Cool to lukewarm.
Meanwhile, sprinkle yeast over warm water and stir until completely dissolved. Beat the eggs until bubbly. Add eggs, yeast mixture, cherries, nuts and raisins to the milk mixture.
Add sifted flour, one cup at a time, beating after each addition until mixture is smooth. Turn dough out onto a lightly floured board and knead until smooth and elastic, 3-5 minutes. Form into a ball and place in a lightly greased bowl; turn dough once so top is greased. Cover with a towel and let rise in a warm place until doubled in bulk, about 2 hours.
After dough has risen, punch dough down and divide into flour equal pieces. Form each piece into an 8-inch roll. Cut three of the rolls into 8 pieces each and shape each into a ball.
Lightly grease a 10-inch tube pan. Place a layer of balls on bottom of tube pan; top with a second layer of balls, leaving room around inside edge of pan for another row of smaller balls.
Cut the remaining roll into 12 pieces; shape into balls and place around inside edge of pan. Cover and let rise until double in bulk, about 1 hour.
Bake in preheated 375 degrees F oven for 45 minutes. Remove from pan and cool.
Meanwhile, mix up confectioners' frosting, and mix up a few different colors for variety.
When bread is cooled, frost with different colored confectioners' frosting, frosting top of balls to resemble an Easter egg nest.
---