Easy Naan Khatai Recipe
Tell a Friend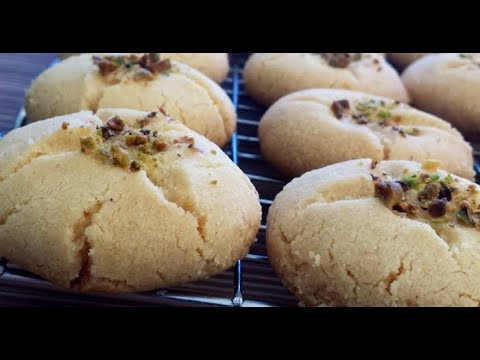 Brief Description

Naan khatai is one of the mouth-watering snacks that is loved by one and all in India. Naan khatai is a traditional Indian shortbread cookie or biscuit which is a favourite teatime snack. Even kids love to devour these amazing cookies. You can find naan khatai easily in any of the bakery shops across India.

Main Ingredient

milk

Recipe Type: Public

Source:

Temperature varies in different oven models, so keep checking the cookies while baking. If they are not baked enough, keep them baking for few more minutes.

Tags:

Notes:

You can't bake naan khatai in microwave mode. But you can still use your microwave for baking if the microwave has a convection option. Use the convection mode for baking naan khatai in the microwave oven. Pre-heat the microwave oven in the convection mode at 180 degrees Celsius for 10 minutes. Then bake the naan khatai in the pre-heated microwave in the convection mode at 180 degrees Celsius for 15-20 minutes till they turn golden.
Ingredients:
1 cups - all-purpose flour/maida
1/4 cups - gram flour/besan
1/2 teaspoons - baking soda
1 teaspoons - baking powder
2 tablespoons - sooji/fine rava
3 pinchs - nutmeg powder or grated nutmeg
1/2 teaspoons - cardamom powder
1/2 cups - ghee or butter at room temperature
1/2 cups - sugar
1/2 tablespoons - dahi/yogurt
2 tablespoons - milk
- Few almonds or chironji (Charoli)
Directions:
1) Grind the sugar in a mixer and make a fine powder.
2) Take an electric mixer and blend ghee with powdered sugar. You can also cream it in a food processor.
3) Blend until the mixture becomes smooth, light, and creamy.
Sift all-purpose flour, besan, baking powder, and baking soda. Keep the sifted dry ingredients aside.
4) Now add yogurt or cream ghee and sugar mixture and mix them well.
5) Now add dry ingredients into the mixture and add sooji, cardamom powder, and nutmeg powder.
6) Mix everything gently and avoid kneading the dough.
7) Just mix and gather into smooth dough. If the mixture is crumbly and you can't bring the dough together, add 1-3 tablespoons of milk. Mix lightly and make the dough.
8) Make medium sized balls from the dough.
9) Roll them evenly into your palms and slightly flatten them.
10) Press Chironji or almonds on the top lightly.
11) You can also make some criss-cross designs on the naan khatai with the help of a fork or toothpick.
Baking the naan khatai
1) Place the naan khatai in a baking tray.
2) Keep some space between them as they will expand while baking.
3) Bake the naan khatai in a pre-heated oven at 180 degrees C for 20-25 mins till they turn golden.
4) Remove and place them on wire racks so that they cool down.
5) When cooled, store the naan khatai in an airtight container.
---