Easy Ghevar Recipe
Tell a Friend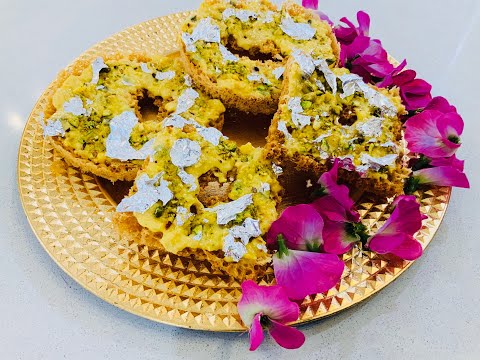 Ingredients:
1/2 cups - ghee/clarified butter
1 blocks - ice
2 cups - maida/refined flour
1/2 cups - chilled milk
3 1/4 cups - chilled water
1 tablespoons - lemon juice
1 cups - sugar
- Dry fruits for garnishing
1/4 tablespoons - cardamom powder/elaichi powder
-
Directions:
Take ½ cup ghee and rub it with an ice block.
Now add 2 cups of maida and crumble the flour well.
Add ½ cup of chilled milk and mix it roughly.
Now add 3 cups of chilled water and 1 tsp of lemon juice to the mixture.
Make a batter with a smooth consistency.
Pour a tablespoon of batter, keeping distance from oil.
The batter will splatter in the oil. Later on, the froth will subside.
Repeat the process 10-15 times.
Once cooked, pull the ghevar out of the pain, draining excess oil completely.
Now pour sugar syrup over ghevar and garnish it with chopped nuts like almonds, cashews, pistachios.
Sprinkle cardamom powder on the top.
Give a finishing touch by layering the ghevar with silver vark.
Serve hot with milk rabri.
---