Creamy Chicken Enchilada Casserole
Tell a Friend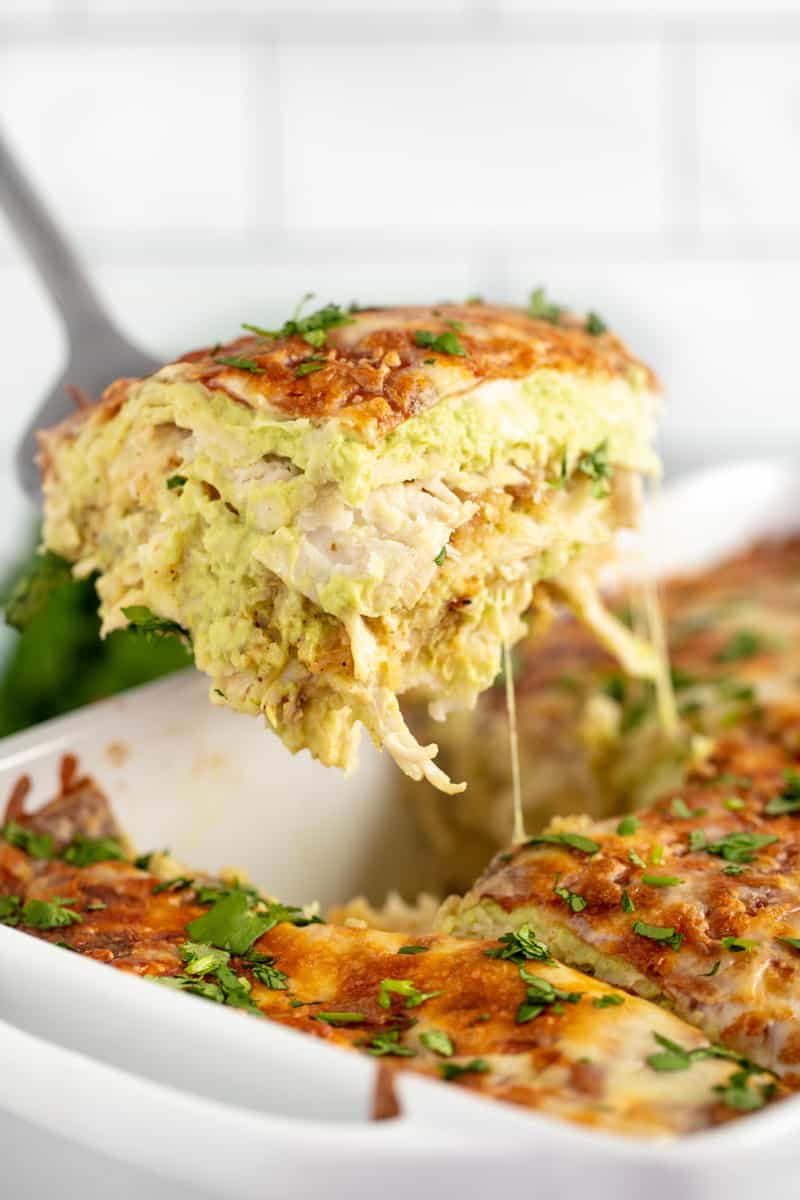 Brief Description

This Chicken Enchilada Casserole is made with an avocado cream sauce for an easy creamy chicken enchilada casserole that the whole family will love!

Main Ingredient

Chicken

Recipe Type: Public

Tags:
Ingredients:
1 cups - White rice Cooked
1 teaspoons - Ground cumin Divided
-
-
-
-
-
-
-
-
-
-
Directions:
1 cup white rice
1 teaspoon ground cumin divided
1/2 teaspoon chili powder
1/2 teaspoon salt
2 cups chicken broth
1 cup salsa verde
2 avocados pitted
1/2 cup sour cream
1 jalapeno stem removed (optional)
2 boneless skinless chicken breasts cooked and shredded
28-32 corn tortillas
4 cups shredded mozzarella
Make the rice by pouring rice into a medium saucepan with chicken broth, 1/2 teaspoon cumin, chili powder, and salt. Bring to a boil, cover, reduce heat to low, and cook for about 15 minutes until all water has been absorbed or evaporated. Fluff and stir rice, and set aside.
Make the sauce by combining salsa verde, avocados, sour cream, jalapeno (optional), and remaining 1/2 teaspoon of cumin in a blender. Blend until smooth.
Mix a scoop of the sauce with the shredded chicken in a small mixing bowl, just enough to give the chicken a bit of favor.
Spoon another scoop of the sauce into the bottom of the pan, just enough to give the bottom a light coating. Cover the bottom a 9x13 pan with tortillas, cutting them in half as necessary. Cover the base with some of the avocado cream sauce. Sprinkle a light layer of cheese over the tortilla base.
Spoon half of the cooked rice over the base, along with half of the chicken. Sprinkle with another layer of cheese. Top with another layer of tortillas and spread sauce on top of tortillas. Sprinkle a light layer of cheese over the sauced tortillas. Repeat with remaining rice and chicken.
Top with a final layer of tortillas, smother with remaining sauce, and cover with remaining cheese.
Bake at 375 degrees for about 25-30 minutes until cheese is warm and bubbly. Serve hot.
Hyperlinks:
https://fb.watch/eviUff0gyD/?fs=e&s=cl
---