Cinnamon Raisin Bread
Tell a Friend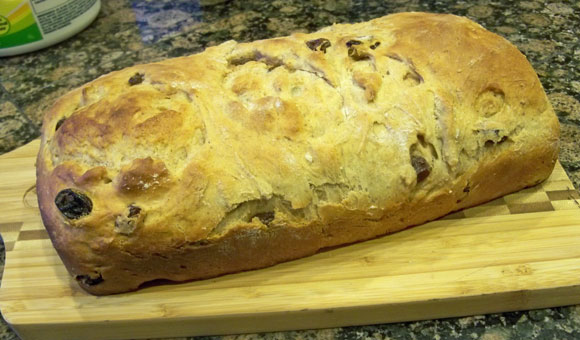 Brief Description

This bread takes most of the day to make because of all the rising, but is worth the wait.

Main Ingredient

flour

Recipe Type: Public

Source:

Notes:

I used a 9-inch pan instead of 8-inch pan, so my loaf turned out a bit flatter and wider than it would have otherwise. But ... the bread tasted delicious, a great hit! And it was still delicious the next day, heated or toasted.
Ingredients:
4 1/2 cups - bread flour
2 teaspoons - active dry yeast
2 cups - whole or low-fat milk
8 tablespoons - unsalted butter
1/4 cups - sugar
2 - large eggs
2 teaspoons - salt
1 cups - dark raisins
1 tablespoons - ground cinnamon
- vegetable oil for greasing
1 - large egg
2 tablespoons - cold milk
1/2 teaspoons - ground cinnamon
1/3 cups - sugar
Directions:
Add flour, yeast, eggs, butter, milk, sugar, and salt to mixing bowl. Mix 4 minutes on low and 4 minutes on medium speed. In the last 30 seconds add the cinnamon and raisins. The dough will be wet and sticky. Transfer the dough to a lightly oiled bowl, turning to coat it with the oil, and then cover the dough and let it rise until doubled in size (1-2 hours).
Turn out on floured surface and form two balls. Let rest 15-30 minutes.
Make egg wash by mixing the large egg (beaten) with 2 tbsp cold milk and set aside.
Make cinnamon sugar mixture by combining the 1/2 tsp cinnamon and 1/3 cup sugar in small bowl and set aside.
Gently roll into 12x8-inch rectangle, brush with egg wash, and sprinkle with cinnamon sugar mixture. Roll dough, fold in the ends and place into loaf pans (makes 2 loaves) seam side down; brush with more egg wash, and then let rest for another 2 hours.
Bake in a 425 degree oven for 25-30 minutes.
---