Chocolate Salami
Tell a Friend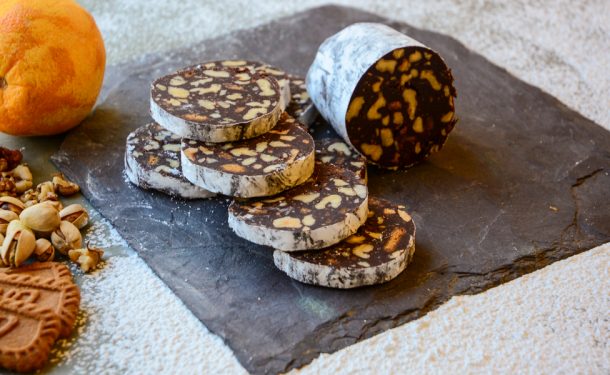 Main Ingredient

Butter

Recipe Type: Public

Source:

Tags:

Notes:

Posted By: ISC
Ingredients:
1 whole - Egg
150 grams - Sugar
100 grams - Butter
3 tablespoons - Bitter chocolate powder Three spoonfuls
300 grams - Biscuits Cookie type
4 tablespoons - Rum A small glass of rum
3 tablespoons - Powdered sugar Three spoonfuls
Directions:
- Prepare the cream. Wisk the eggs with 2 spoons of sugar, until
obtaining a light and frothy cream, then pour the previously melted butter over low heat in a pan. Mix the remaining sugar with the bitter cocoa and rum and add to the cream. Mix well to obtain a fluid mixture.
- Shape the salami. With your hands crumble the biscuits coarsely (you
can also put them in a napkin and break them with a meat tenderizer)
and add to the mixture by kneading. Shape the compound like a cylinder,
wrap it in foil and seal at the ends.
- Cools and decorate. Leave in the fridge for at least 2 hours,
remove the foil and roll it on a surface sprinkled with sugar. Cut
a slice for each guest, the rest will remain softer if left whole.
---