Chinese Beef Noodle Soup
Tell a Friend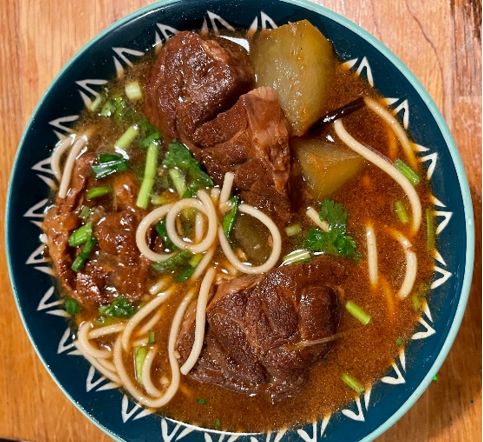 Brief Description

Here's one of my favourite noodle soup and easy to cook at home! - Rachel Chen (Hong Kong Office Manager)

Main Ingredient

5 lbs Beef shank 5 cloves garlic 1 t-spoon red chili flake 1 white or yellow onion (diced) 1 T chopped ginger 1/2 cup spring onions (sliced) 2 bulbs fennel (diced) 1 cup rice wine vinegar (un-seasoned) 1 cup dark soy source 1 cup light soy source 1 or 2 cube sugar chilly bean source ( as needed)

Category: Beef

Recipe Type: Public

Tags:

Notes:
Directions:
1. Rinse off the beef shank under cold running water and add to pot with rice wine, spring onion and slice of ginger, Boil for 5 mins
2. Wash the beef shank and cut into slices
3. Put vegetable oil in a pan, fry garlic, red chilli, onion, ginger, spring onions, fennel, then put the beef shank inside, with 3 spoon of dark soy sauce and 3 spoon of light soy source, 1 spoon of chilly bean source and some cube sugar,
4. Put everything into a big pot, adding some water, simmer for 1 – 2 hours season. Turn off the heat and let the soup stay with the cover on for another hour.
5. Add any vegetables you like and serve with Chinese noodles. I normally add some carrot, radish…
---