Chicken Muliggatawny Soup
Tell a Friend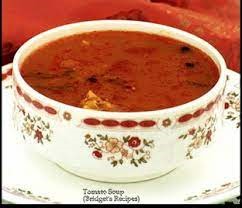 Main Ingredient

Chicken

Tags:

Notes:

Serve with bread or rice
Ingredients:
- 1/2 kg chicken chopped into medium size pieces
- 1 teaspoon chilly powder
- 2 teaspoons pepper powder
- 1 teaspoon cumin powder
- 1 teaspoon coriander powder
- 1 teaspoon garlic crushed
- 2 big onions sliced
- 1 cup coconut paste or coconut milk
- mint leaves garnish
- salt to taste
Directions:
Cook the chicken and all the ingredients with 6 to 8 cups of water in a large vessel on high heat till reaches boiling point. Lower the heat and simmer for at least one hour till the soup is nice and thick. Garnish with mint leaves.
Hyperlinks:
https://anglo-indianrecipes.blogspot.com/2008/08/chicken-mulligatawny-soup.html
---