Charred Broccoli Salad With Figs Recipe | Bon Appétit
Tell a Friend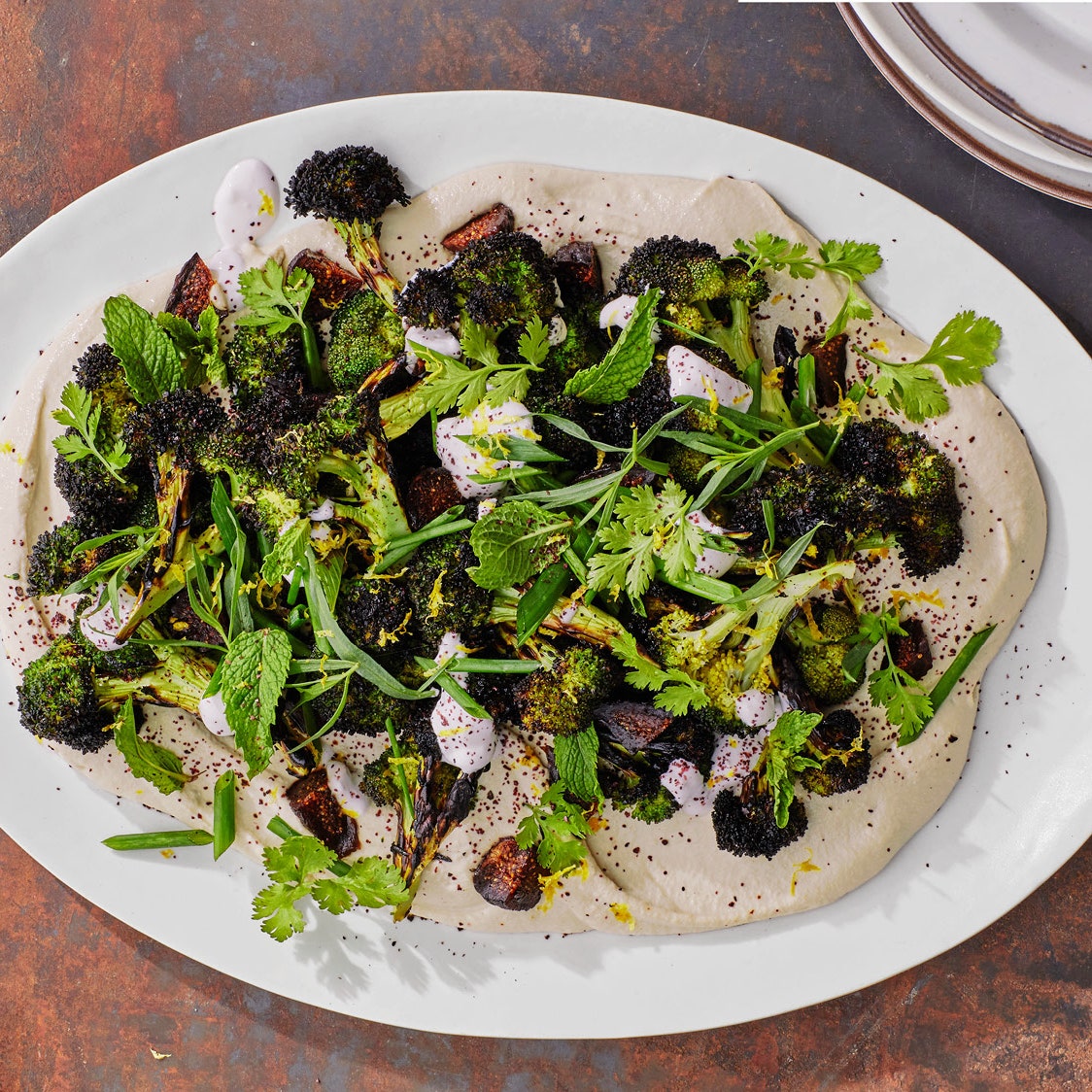 Brief Description

Broccoli

Main Ingredient

broccoli

Recipe Type: Public

Tags:

Notes:
Ingredients:
2 pounds - broccoli (about 3 medium heads), ends trimmed, stems peeled
1/4 cups - extra virgin olive oil
1/2 - labneh or whole milk plain Greek yogurt
2 - small garlic cloves, finely grated, divided
1/2 cups - coarsely chopped dried figs
3 tablespoons - fresh lemon juice, divided
1 cups - tahini
Directions:
Step 1
Prepare a grill for high heat. Cut broccoli lengthwise into ¼"-thick planks (try to keep crown and stem attached). Toss broccoli planks with oil in a large bowl to coat; season with salt and pepper. Grill, turning occasionally, until charred all over (they'll look burnt, and that's a good thing) but stems are still crisp-tender, about 5 minutes; reserve bowl. (Or you can broil broccoli in a single layer on a rimmed baking sheet, undisturbed, until well-charred on 1 side, 14–16 minutes.) Transfer broccoli back to reserved bowl and cover tightly and let sit 30 minutes to steam.
Step 2
Meanwhile, whisk labneh, half of garlic, and 2 Tbsp. water in a small bowl until smooth and the consistency of ranch dressing (add more water if needed). Season dressing with salt and pepper.
Step 3
Cut broccoli into bite-size pieces (about 3"), separating florets from stems as you go. Coarsely chop stems and measure out 1 cup; set aside. Return remaining broccoli to bowl; add figs and 1 Tbsp. lemon juice. Toss to combine; season with salt and pepper. Set aside.
Step 4
Blend tahini, reserved broccoli stems, remaining garlic, remaining 2 Tbsp. lemon juice, and ½ cup water in a high-speed blender until very smooth and the consistency of a loose hummus. Season purée with salt and pepper.
Step 5
Spread ½ cup purée on a platter. Top with reserved broccoli salad and spoon dressing over (you won't need all of it). Scatter herbs, sumac, and lemon zest over.
Do ahead: Dressing can be made 3 days ahead. Cover and chill.
---