Butter Chicken
Tell a Friend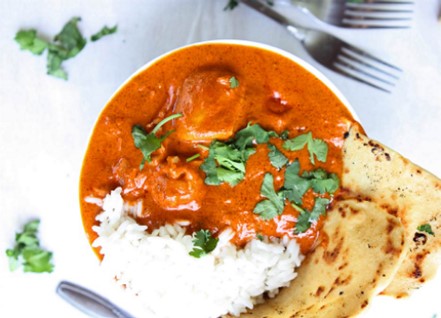 Brief Description

Serve with plain basmati rice for a delicious meal; make a large batch and freeze some for later.

Main Ingredient

chicken

Recipe Type: Public

Source:

Tags:

Notes:
Ingredients:
1 cups - butter divided
2 - onions minced
1 tablespoons - minced garlic
1 cans - 15 oz. tomato sauce
2 cups - whipping cream
2 teaspoons - salt
1 teaspoons - cayenne pepper (optional)
2 teaspoons - garam masala
1 1/2 pounds - skinless, boneless chicken breasts or thighs cut into bite-sized chunks
2 tablespoons - olive oil
3 tablespoons - tandoori masala
Directions:
NOTE: the garam masala and tandoori masala are both spice blends. You can purchase them at Bulk Barn, in their spice aisle, or at the spice section of your grocery store.
1. Preheat oven to 375 degrees F.
2. Melt a few tablespoons of butter in a large skillet (one that you have a lid for or can repurpose a lid for) over medium heat. Stir in onion and garlic and cook slowly until the onion caramelizes into a dark brown, about 15 minutes.
3. Set the onions aside (or grab a saucepan) and over medium-high heat, melt the remaining butter. Add the tomato sauce, whipping cream, salt, cayenne pepper (if using), and the garam masala. Bring to a simmer, then reduce heat to medium-low, cover, and simmer for 30 minutes, stirring occasionally. After 30 minutes, add the onion-garlic mixture back in and stir.
4. While the sauce is simmering, toss cubed chicken with oil until coated, then sprinkle and toss with the tandoori marsala until coated. Spread out on a single layer on a baking sheet (I put parchment paper on first to make clean up after baking easier).
5. Bake chicken in a preheated oven until no longer pink in the center, about 12 minutes (they may appear pink on the outside from the spice.
6. Once done, add the chicken to the sauce and simmer for 5 minutes before serving.
---