Bread - No Knead
Tell a Friend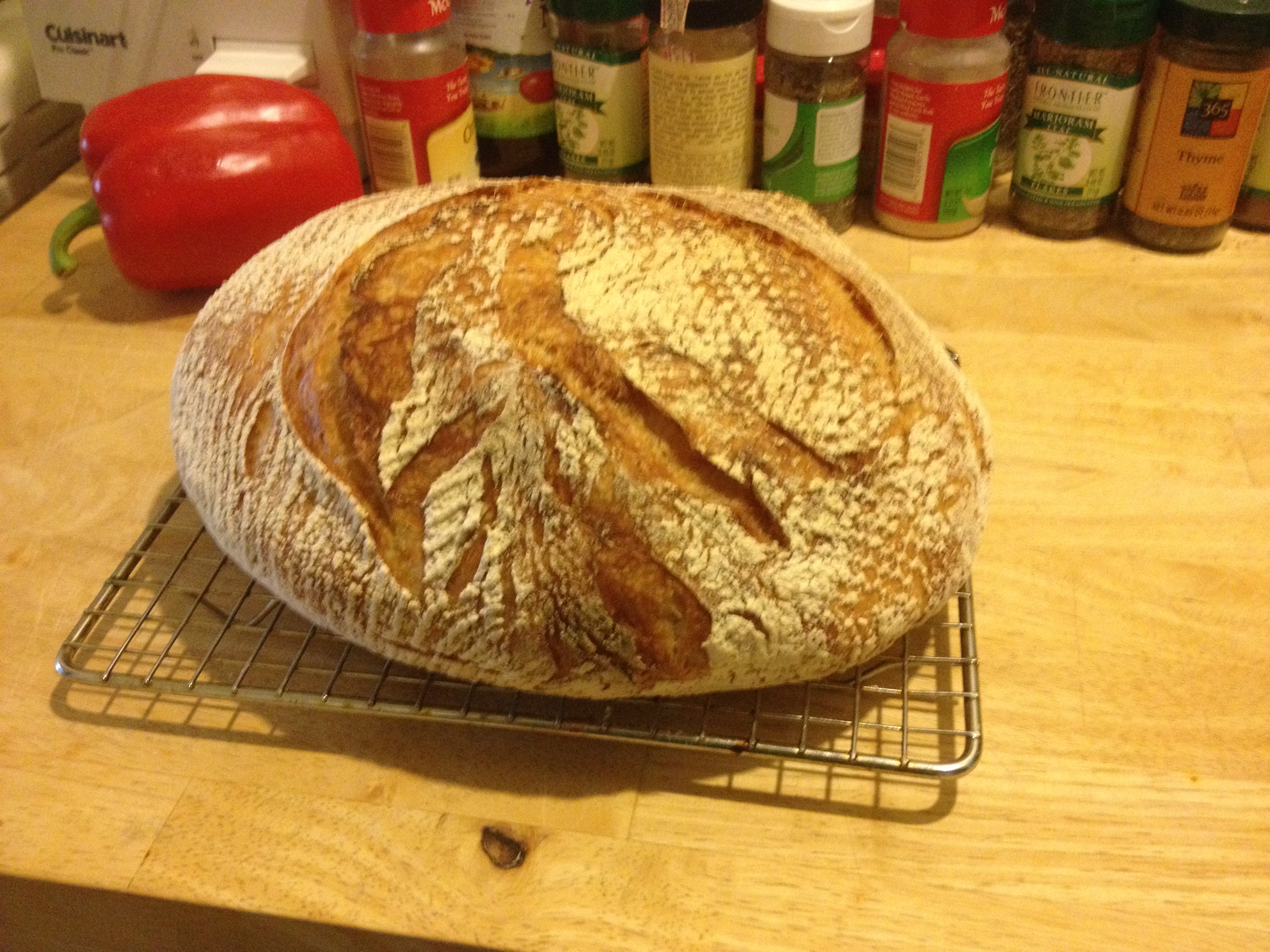 Brief Description

Sullivan St Bakery Recipe

Main Ingredient

Flour

Recipe Type: Public

Source:

Tags:

Notes:

I put a shallow pan (pie plate) of hot water on the lowest rack - steams helps the crust. If it's colder, let dough rest longer - 18hrs Add in anything you want, hard cheese, sun dried tomatoes, pepperoni... BTW Pic is stretched wide
Ingredients:
3 cups - Bread Flour 430 grams
1 1/2 cups - water
1/4 teaspoons - yeast
1 1/4 teaspoons - salt
6 quarts - heavy pot with lid, oven safe Cast Iron, Ceramic, Pyrex
Directions:
Mix all of the dry ingredients in a medium bowl. Add water and incorporate by hand or with a wooden spoon or spatula for 30 seconds to 1 minute. Lightly coat the inside of a second medium bowl with olive oil and place the dough in the bowl. Cover the bowl with plastic wrap and let the dough rest 12 hours at room temperature (approx. 65-72°F).
Remove the dough from the bowl and fold once or twice. Let the dough rest 15 minutes in the bowl or on the work surface. Next, shape the dough into ball. Generously coat a cotton towel with flour, wheat bran, or cornmeal; place the dough seam side down on the towel and dust with flour. Cover the dough with a cotton towel and let rise 1-2 hours at room temperature, until more than doubled in size.
Preheat oven to 450-500°F. Place the pot in the oven at least 30 minutes prior to baking to preheat. Once the dough has more than doubled in volume, remove the pot from the oven and place the dough in the pot seam side up. Cover with the lid and bake 30 minutes Then remove the lid and bake 15-30 minutes uncovered, until the loaf is nicely browned.
---