Bread Bowl
Tell a Friend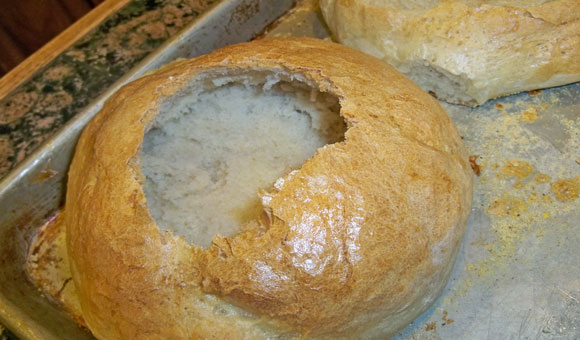 Brief Description

Fun bread bowls for serving soup or hot dips.

Main Ingredient

flour

Recipe Type: Public

Tags:

Notes:

Posted By: mcarr
Ingredients:
2 packages - active dry yeast
2 1/2 cups - warm water 110 degrees F
2 teaspoons - salt
2 tablespoons - vegetable oil
7 cups - all-purpose flour
1 tablespoons - cornmeal
1 - egg white
1 tablespoons - water
Directions:
In a large bowl, dissolve yeast in warm water, and add 1 teaspoon of sugar. Let stand until creamy, about 10 minutes.
Add salt, oil, and 4 cups of flour to the yeast mixture; beat well. Stir in the remaining flour, 1/2 cup at a time, beating well with an electric mixer at medium speed after each addition.
When the dough has pulled together, turn it out onto a lightly floured surface and knead until smooth and elastic, about 6 minutes (or continue running stand mixer with dough hook for a few minutes to knead dough). Lightly oil a large bowl, place the dough in the bowl and turn to coat with oil. Cover with a towel or cloth and let rise in a warm place until doubled in volume, about 40 minutes.
Punch dough down, and divide into 6 equal portions. Shape each portion into approximately a 4-inch round loaf. Place loaves on lightly greased baking sheet sprinkled with cornmeal. Cover and let rise in warm place, free from drafts, until doubled in bulk, about 35 minutes.
Preheat oven to 400 degrees F (200 degrees C). In a small bowl, beat together egg white and water; lightly brush the loaves with half of this egg wash.
Bake in preheated oven for 15 minutes. Brush with remaining egg mixture, and bake about 20 minutes more or until golden (if bread starts to brown too quickly, place sheet of aluminum foil loosely over top to prevent further browning while baking finishes). Cool on wire racks.
To make bowls: Cut a 1/2-inch thick slice from top of each loaf; scoop out centers, leaving 3/4-inch thick shells. Fill bread bowls with hot soup or dip and serve immediately.
---