Boston Baked Beans
Tell a Friend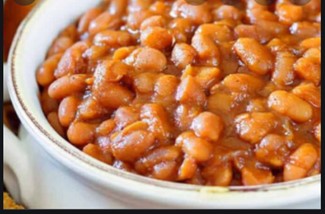 Brief Description

Beans are baked all day with or without bacon, after soaking overnight.

Main Ingredient

dried beans

Recipe Type: Public

Source:

Notes:
Ingredients:
1 pounds - dried beans (navy beans, Great Northern, pinto, etc.)
2 - bay leaves
1 - medium onion sautéed
4 ounces - thick sliced bacon (leave out if making vegetarian) sautéed and rendered
1/3 cups - brown sugar
1/3 cups - molasses
1/4 cups - ketchup or tomato sauce
2 tablespoons - yellow mustard (or Dijon)
1 tablespoons - smoked paprika
1 tablespoons - Worcestershire sauce or soy sauce
1 tablespoons - cider vinegar (optional)
2 1/2 cups - boiling water or vegetable stock
- salt and pepper
3 tablespoons - maple syrup (optional)
Directions:
Soak beans overnight.
On day of cooking, turn slow cooker on high to preheat. Drain beans and pour them into large Dutch oven along with 8 cups of water and bay leaves. Bring to boil over medium-high heat and use slotted spoon to skim foam off of top. Boil for 15 minutes. Once beans are done boiling, drain beans and transfer to slow cooker, discarding bay leaves.
Sauté your onions (and bacon, if not doing vegetarian version) and add them to the pot. Add remaining ingredients and stir.
Cook on Low for 8 hours or High for 4 hours. Check for seasoning before serving.
Notes: The beans can be made up to two days in advance and kept in the fridge. Serve with hot corn bread and coleslaw. Omit Worcestershire sauce to make the recipe vegan.
---