Blueberry Banana Bread
Tell a Friend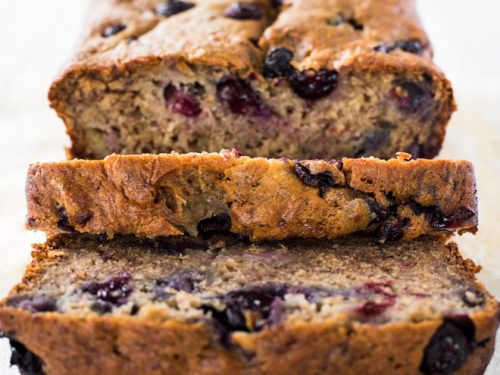 Ingredients:
4 whole - Bananas
3 whole - Eggs
1 teaspoons - Vanilla extract
3 tablespoons - Honey/Maple Syrup
1/4 cups - Melted coconut oil
2 1/2 cups - Ground almonds
1 teaspoons - Cinnamon
1 teaspoons - Baking powder
1 cups - Blueberries
Directions:
- mash the bananas with a fork. Add the bananas, eggs, coconut oil, vanilla and honey into a bowl and mix.
- combine the ground almonds, baking powder and cinnamon and mix it all together. Then add it to the wet ingredients.
- fold in the blueberries.
- line your bread tin with parchment paper and pour the mixture in.
- bake at about 170'C (depending on your oven, use the temperature you would normally bake bread/cakes with) for about 55 minutes, until golden and crispy on top.
---