Black Bean Rice (Arroz Negro)
Tell a Friend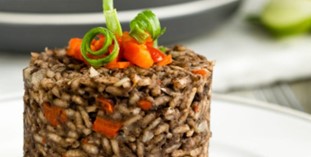 Brief Description

Rice with black beans, onions and peppers and seasoning.

Main Ingredient

long grain white rice

Category: Rice

Recipe Type: Public

Source:

Tags:

Notes:
Ingredients:
2 teaspoons - (10 mL) avocado or extra virgin olive oil
1 - small onion finely diced
1/4 - bell pepper finely diced
1 cups - (240 mL) long grain white rice
1 cups - (240 mL) prepared black bean soup OR 1/4 cup canned black beans plus water
1/2 cups - (120 mL) drained and rinsed black beans
1 1/2 cups - vegetable broth or water
1/2 teaspoons - (2.5 mL) sea salt or to taste
1/4 teaspoons - (1.25 mL) dried thyme OR 1 tsp. chopped fresh thyme
- sliced green onion to finish
Directions:
In a small pot with a tight-fitting lid, heat the oil over medium heat. Add the onion and red pepper; sauté 2-3 minutes or until starting to soften. Add the rice and continue cooking 1-2 minutes longer.
Pour in the black bean soup*, broth, whole beans, salt and thyme. Bring to simmer; cover, reduce heat to low and cook per rice directions. Should be between 15-20 minutes; remove from heat and rest for 5.
Fluff with a fork. Serve garnished with sliced green onion.
Note: *If not preparing the black bean soup at the same time: Substitute ¼ cup beans, the liquid from the can and enough water to bring the total volume up to 1 cup. Blend this until mostly pureed and use in the recipe in place of the prepared black bean soup.
---