Biscotti (Personalized)
Tell a Friend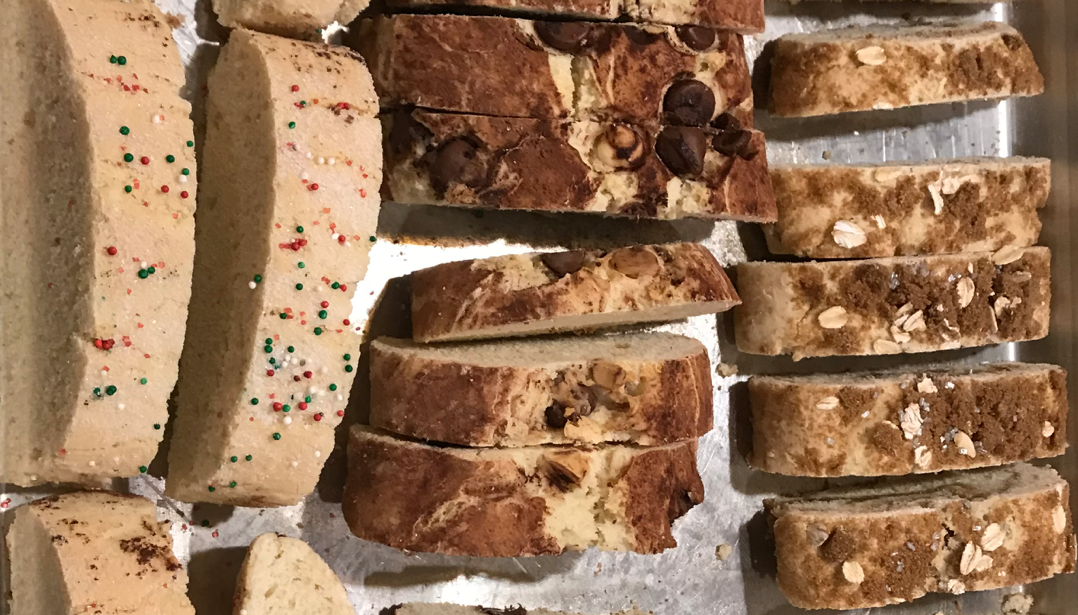 Brief Description

This basic recipe was from Nonny, Grampsies mother. She was from the region of Introbio, Italy-near Lake Como. You make the base dough and then take requests from your family for each log flavor.

Main Ingredient

flour, sugar, eggs

Recipe Type: Public

Source:

Tags:

Notes:

Topping ideas: I knead these ingredients in to the dough then make the log. I also mash some ingredients on the top but they will fall off unless pressed firmly in to dough. For any dustings of brown sugar or cocoa, roll log heavily in. -chocolate chip and craisins -chocolate chip and cocoa dusting -craisin pistachio -oatmeal, pecan, cinnamon -candy cane pieces (you could put a white choc. peppermint glaze on this) -brown sugar and sea salt
Ingredients:
1 1/2 cups - butter
5 whole - eggs
4 1/2 cups - granulated sugar
1 teaspoons - baking soda
1/2 quarts - buttermilk
1 tablespoons - vanilla
1 teaspoons - almond extract can add a little more
9 cups - flour 9-11 cups
5 teaspoons - baking powder
Directions:
1. Get out a very large mixing bowl, and hand mix the dry ingredients and wet ingredients alternately. Will make a soft dough. Add flour as needed-that's why it is 9-11 cups. This is your basic dough flavor.
2. Now, you will take dough out and separate in to even "balls" or chunks to become logs. Each log can have a different topping flavor. (See notes below for topping ideas!) Once you decide on log variety, knead in toppings or put on top. Then form a log the width of the cookie sheet. Use 3 logs per sheet.
3. Put on cookie sheet lined with parchment. Bake on 350 degrees until slightly brown! Time varies based on oven temperature.
4. Once out of the oven, slightly cool then slice on an angle. You can stand the slices up and re-bake, thus called biscotti which means twice baked. You just put back in oven for 5 mins. or so. I DO NOT twice bake mine because we like them soft. Once cooled, put in container.
5. An added fanciful touch is to drizzle chocolate or dip half in chocolate.
---