Baked Apple Pancake
Tell a Friend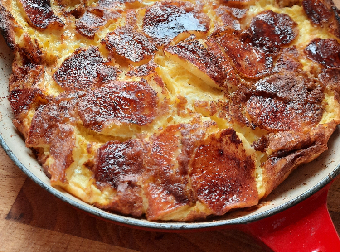 Brief Description

Get the maple syrup ready! This is a special weekend breakfast made with simple and few ingredients. The Baked Apple Pancake exits the oven as a fluffy pillow and quickly settles down into a glossy cinnamon confection; impressive to behold. Both sweet and packed with protein. This pancake is a family favorite, but is not a recipe passed down and made in my mom's kitchen, but rather one from a classic, American breakfast house. The famous Baked Apple Pancake was the specialty of the menu and the only thing we'd order. It took a lot of sleuthing and testing to get it close to the original and secret recipe. From here on I hope it will be passed down by my daughter. It is absolutely delicious and freezes wonderfully for those mornings with less time for preparing breakfast.

Main Ingredient

Apple, Egg

Recipe Type: Public

Source:

Shared by Lori Greene. Based on the famous Baked Apple Pancake at Bickford's Restaurants in the US. A version of a Dutch Baby.

Notes:

Recipe works best when using a cast iron skillet. You could use the lid of a dutch oven with handle (as I do, shown in recipe photo). I use less than 2 tablespoons of butter in the skillet preheat phase. I melt a tablespoon of butter and sprinkle it all over the top of the pancake with a pastry brush about 15 minutes into baking time. This really gives the sugar and cinnamon topping a beautiful gloss in the last 5 minutes of baking, making it less dry.

Posted By: ISC
Ingredients:
1/2 cups - Flour
1/2 cups - Whole Milk
4 - Large Eggs
1 whole - Apple or 2 small apples
2 tablespoons - Butter
2 tablespoons - Sugar
1 teaspoons - Cinnamon
Directions:
Pre-heat oven to 400° F or 205° C.
Mix sugar & cinnamon together in a small bowl and set aside. Mix the milk & eggs together in a medium bowl. Add the flour. Stirring only enough to remove large lumps. Put 2T of butter into a cast iron skillet or pan and place in the preheated oven. While the skillet is heating and the butter is melting, peel and core the apple. Cut the apple into slices about half a centimeter in thickness. With an oven mit remove the skillet from the oven giving the melted butter a swirl to coat the bottom and sides. Pour in your batter. Place the sliced apples on top, try not to overlap too much. Fit as many apple pieces as you can. Sprinkle the cinnamon-sugar mix on top. Bake for 20 minutes.
Finish with a pour of maple syrup onto individual slices.
---