Arin's Red-Wine Braised Short Ribs
Tell a Friend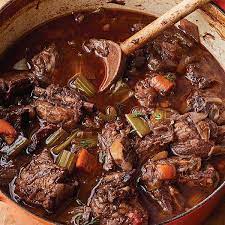 Brief Description

Meaty beef short ribs braised with vegetables and red wine; a favorite recipe of friend Arin.

Main Ingredient

short ribs

Recipe Type: Public

Tags:
Ingredients:
5 pounds - very meaty bone-in beef short ribs, cut into 2-inch chunks
- good olive oil
- kosher salt and freshly ground black pepper
3 cups - chopped leeks, white and light green part (3 leeks)
3 cups - chopped celery (5 to 6 ribs)
2 cups - chopped yellow onions (2 onions)
2 cups - chopped unpeeled carrots (6 carrots)
1 1/2 tablespoons - minced garlic (5 cloves)
1 bottles - 750 ml Burgundy, Cotes du Rhone, Chianti or other dry red wine
4 cups - beef stock, preferably homemade or College Inn brand
1 cups - canned crushed tomatoes, such as San Marzano
1 bottles - 11.2 oz. Guinness draught stout
6 sprigs - fresh thyme, tied with kitchen string
Directions:
Preheat the oven to 425 degrees F. Place the short ribs on a sheet pan, brush the tops with olive oil, and sprinkle with 1½ tablespoons salt and 1½ teaspoons pepper. Roast for 20 minutes and remove from the oven. Reduce the temperature to 325 degrees F.
Meanwhile, heat ¼ cup olive oil in a large (12-inch) Dutch oven or large oven-proof pot over medium heat. Add the leeks, celery, onions, and carrots and cook over medium to medium-high heat for 20 minutes, stirring occasionally. Add the garlic and cook for one minute. Add the wine, bring to a boil, lower the heat, and simmer over medium heat for 10 minutes, until the liquid is reduced. Add the stock, tomatoes, Guinness, thyme, 1 tablespoon salt, and 1½ teaspoons pepper.
Place the ribs in the pot, along with the juices and seasonings from the sheet pan. Bring to a boil, cover, and cook in the oven for one hour.
Uncover and cook for one more hour, until the meat is very tender.
Remove the short ribs to a plate with a slotted spoon and discard the thyme bundle and any bones that have separated from the meat.
Simmer the sauce on the stove for 20 minutes, until reduced. Skim some of the fat off the top and discard. Return the ribs to the pot, heat for 5 minutes, and taste for seasonings.
Hyperlinks:
https://barefootcontessa.com/recipes/red-wine-braised-short-ribs
---