Grilled Cilantro Lime Chicken
Tell a Friend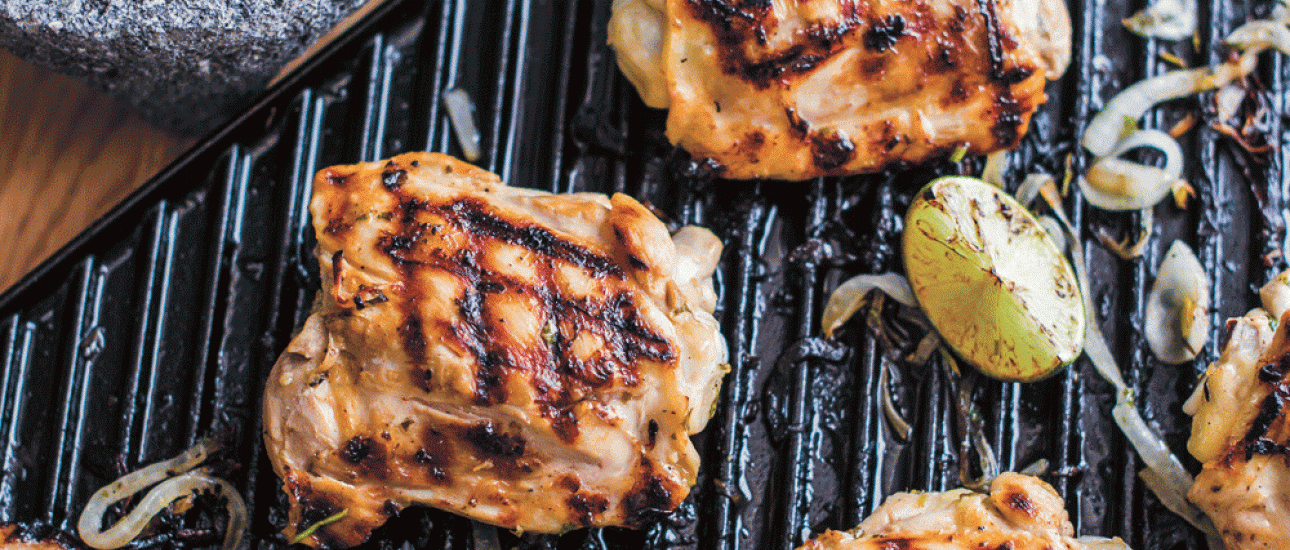 Brief Description

"Whenever I think of summer grilling, the first recipe that comes to mind is this one. The tangy, vibrant marinade makes the cheapest of proteins a delight to eat. This is by far one of my favorite recipes to make for large family parties, and I hope you are able to build as many memories with this recipe as I have. One of my favorite memories is of my late Tio Cuate grilling chicken in his backyard. I can't remember why we were there—it must have been someone's birthday—but I remember my tio and mom were singing and dancing by the grill. This tio, my favorite uncle, was a vibrant man who always radiated good energy to those around him, something I try to replicate in my life. So I dedicate this special recipe to him. I hope your summer barbecues are as fun, zesty, and vibrant as this recipe!" - Chef Claudia Sandoval

Main Ingredient

Chicken

Recipe Type: Public

Tags:

Notes:
Ingredients:
8 - bone-in chicken thighs
- salt
- freshly ground black pepper
1/2 cups - fresh cilantro leaves minced
1 teaspoons - lemon zest
1/2 teaspoons - lime zest
1 - small yellow onion thinly sliced
1/3 cups - fresh lemon zest
1/3 cups - fresh lime juice
1/4 cups - canola oil
Directions:
Remove the skin from the chicken (see Notes) and place the chicken in a deep nonreactive dish or baking pan in one layer. Season it generously with salt and pepper on both sides. Sprinkle on the cilantro, lemon zest, and lime zest. Next, layer the onion slices on top of the cilantro as evenly as possible, then pour the lemon and lime juices over the chicken. Drizzle the oil over the chicken and cover the dish with plastic wrap. Refrigerate for 4 hours, turning the chicken after about 2 hours.
Set an outdoor grill to medium heat or preheat an indoor grill pan over medium heat. Toss the chicken in the marinade once more to make sure the oil is incorporated—this will not only help your chicken to crisp up beautifully, but it will also prevent it from sticking to your grill. Season with salt and pepper to balance the tartness of the marinade.
Remove the chicken from the marinade and place it on the grill with the onion slices and a few lime wedges if you like. Cook for 5 to 7 minutes on each side, until the internal temperature reaches 155°F (65°C). Remove it from the heat to a platter, cover with aluminum foil, and set aside for about 10 minutes, until the chicken reaches the target temperature of 165°F (75°C).
---