Something about visiting the Farmers Market makes me feel like a little kid again.  I'm not sure why that is.  Perhaps walking amidst the wonder and color of all these beautiful fresh foods reminds me to delight in the simple things.  At the local farmers market there are people from farms, ranches, and dairies, along with local artisans with their homemade honey, salsas, pickles, cheeses, breads, and other wares.  Almost always, I find myself surprised by a treasured and unexpected find.
It is especially fun to visit farmers markets when traveling.  In Hawaii we visited one and had some delicious fresh pizza made in a brick pizza oven hauled on the back of a trailer by the owner.  The pizza was fabulous!  We also bought incredibly sweet pineapple and bananas to enjoy while exploring the island the rest of that day.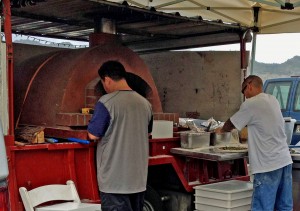 In Waco, Texas, we saw a homemade robot, "playing" ball with some of the kids gathered around, as the builder and operator stood close by to facilitate.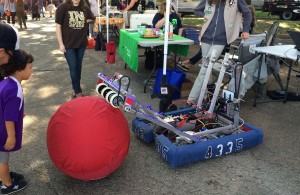 Sometimes there are even local musicians providing live music for the day or artists displaying their vibrant pieces for the crowd.
All in all, the farmers market is a wonderful place to visit for so many reasons.  Enjoy getting outside, breathing the fresh air, spending time walking and chatting with friends or family, and purchasing some delicious items for your favorite recipes, all in a relaxing al fresco environment. And while you're there, be sure to pick up some fresh local vegetables (like sweet corn, green beans, carrots, beets, sweet potatoes) and fruits (like strawberries or blackberries) for your meals that week, along with some eggs, meat, honey, fresh herbs, flowers or plants.
If you're not sure of the location of a farmers market in your area, check out Local Harvest and see if they have your local farmers markets listed.  Be sure to check the dates for the farmers market, since many are seasonal markets or only open on certain days of the week.  In the Dallas / Fort Worth area, we have an abundance of farmers markets to choose from.  Of course, the largest is the Dallas Farmers Market in downtown Dallas (open daily year round), but there are many other fabulous options (including these in no particular order):
1. Little Elm Farmers Market
(Saturdays 8am – Noon, early May through mid October)
2. Denton Community Market
(Saturdays 9am – 1pm, early April through November)
3. Coppell Farmers Market
(Saturdays 8am – Noon)
4. The Marketplace Mesquite
(every 2nd Saturday, April through September)
5. Keller Farmers Market
(Saturdays 8am – Noon, May through October)
6. Cowtown Farmers Market
(Saturdays 8am – Noon year round; Wednesday 8am – Noon, June through September)
7. McKinney Farmers Market at Chestnut Square and Adriatica
(Sat. & Thurs. 8am – noon, early April through early October)
8. Rosemeade Market & Greenhouse in Carrollton
(Mon – Sat. 8am to 7pm; Sun 9am to 6pm, year round)
9. St. Michael's Farmers Market in Dallas
(Saturday 8am – Noon, starting early April)
10. Grapevine Farmers Market
(Thursday through Saturday, 8am – 4pm, early April to mid October)
What is your favorite farmers market and what do you think makes it a good one? What is your favorite thing about visiting the farmers market? We'd love to hear from you about your experiences, too!
Remember that you can save all your favorite healthy recipes right here at Dish Dish in your own online cookbook account – so you can find them easily next time and share them with your friends!