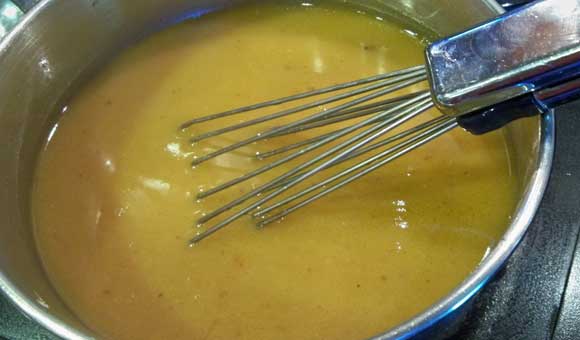 Do you enjoy gravy with meals like roast turkey, roast beef, other roasted meats or pork chops?  Follow these simple steps and tips to make smooth gravy every time in about 10 minutes.
You only need 3 ingredients – 1/4 cup flour, 1/4 cup oil or skimmed grease from the roasting pan, and 2 cups of broth or pan drippings (strained).
Mix the flour and oil or grease together in a small saucepan until thoroughly combined, over medium heat.
Gradually whisk in the broth or drippings until mixture is smooth.
Continue to whisk or stir over medium-low heat until gravy is thickened appropriately (about 7-10 minutes).  Be sure to keep stirring, so it doesn't stick and burn on the bottom!
Remove from heat and serve immediately.
You're done!  You did it all by yourself!  Terrific gravy, easy and quick to make for any meal.
 Join Dish Dish
and organize all your favorite recipes in your own online cookbook, where you can easily edit, add photos, create shopping lists, and share with friends and family from any computer or mobile device whether in the kitchen or on the go.