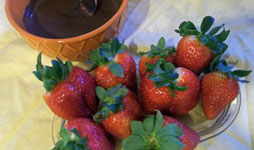 What is the best thing about having fresh picked strawberries – either that your family freshly picked from a local "pick-your-own" farm or pleasantly packed home from the local farmers market? (See how to package, freeze, and best store extra strawberries for use later in the year).
There are so many super delicious strawberry recipes for using those fresh berries! And the bright, red cheery color makes it all the more thrilling to invigorate your palate with these tasty treats.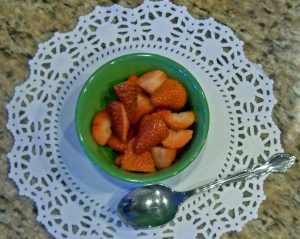 So, what exactly are the best fresh strawberry recipes? Our favorites include easy recipes like strawberry bread, fresh strawberry muffins, cold refreshing strawberry chilled desserts, and fresh strawberry pie, strawberry salad, and strawberry agua, among others. Of course, it's super easy to add diced or sliced strawberries to almost any breakfast dish, too, for some color, a burst of flavor, and some healthy antioxidants, too!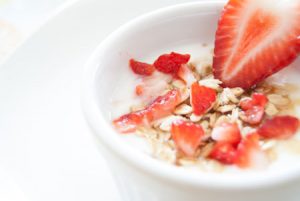 For breakfast, toss some sliced strawberries in to jazz up your favorite cereal, oatmeal, or yogurt; add them on top of pancakes, waffles, toasted bagel or muffin; or throw some into your favorite smoothie for a healthy strawberry recipe. (Above photo by Jeffrey Deng on Unsplash)
Today I'm highlighting one of my personal favorites, a fresh strawberry pie made with a base layer of creamy goodness topped with reduced strawberries followed by fresh sliced strawberries; of course, followed up with a dollop of fresh whipped cream, because …. why not?!?
Start with a pre-baked pie crust or make a single layer crust from scratch, and let it completely cool after baking.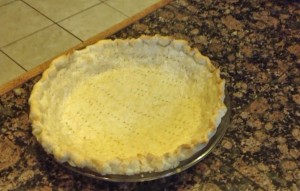 Next we'll mash enough fresh strawberries to equal 1 cup, and mix it together in a saucepan with 1 cup of sugar, 3 tablespoons of cornstarch, and 1/2 cup of water.  After stirring that together over medium heat, we'll keep stirring until it comes to a boil (which can take a little while!), and then let it boil for 1 minute before removing from heat.
We want that mixture to cool completely before adding it to our pie, so it's best to place the mixture into another bowl or dish and place in the fridge to cool.
Next, in another bowl, we'll stir together 3 ounces of softened cream cheese with 2 cups of Cool Whip (or homemade whipped cream).
Now smoothly spread the whipped cream mixture over the cooled baked pie crust for the first layer.
Then top that with 5 cups of sliced strawberries (or as many sliced strawberries as you can put on top and not overflow your pie pan).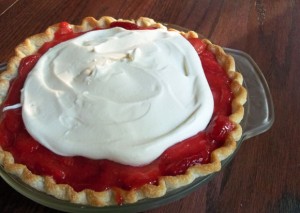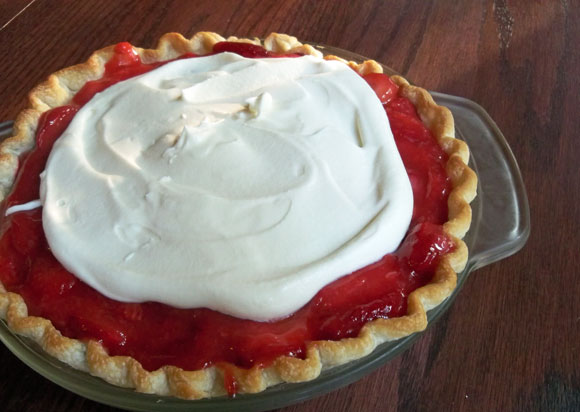 Now we pour the cooled strawberry mixture from earlier over the top of all this goodness and place the pie in the refrigerator to chill for at least 3 hours before serving.
Top it with additional whipped cream, if desired, before cutting and dishing up for family and friends.  This treat is a sweet, cold, refreshing dessert for a summer evening.
What are your favorite ways to serve up fresh strawberries?  We love hearing about your family traditions and favorites in the comments below.