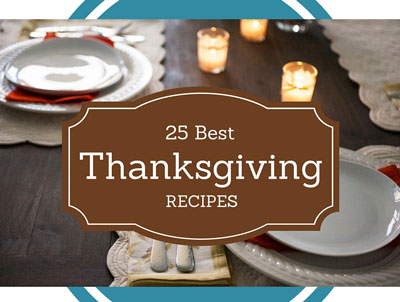 Looking for the Best Thanksgiving Recipes?
When I was growing up, we enjoyed pretty much the same Thanksgiving recipes year in and year out.  We usually enjoyed a traditional fare with roasted turkey, mashed potatoes, cornbread dressing (never stuffing, for us), gravy, green bean casserole, maybe sweet potato casserole with marshmallows, a jell-o or whipped cream fruit salad, cranberry sauce, and dinner rolls, to be followed by dessert which included pumpkin pie with homemade whipped cream, pecan pie, and mince meat pie.
However, in the last several years we have seen the rise of all types of cooked turkey including deep-fried!  You can cook your turkey in the deep fryer, the smoker, the Green Egg, the crockpot (yes, even that!), or in the oven (with lots of flavor options — oh, and to brine or not to brine?). Here's a terrific infographic from Traeger on how to smoke a turkey.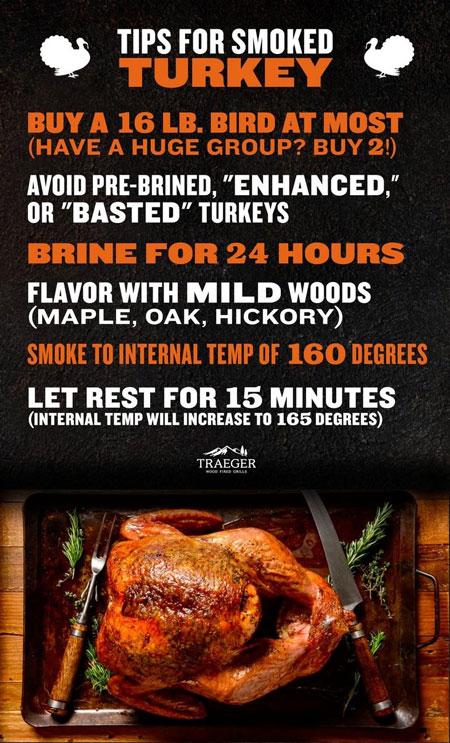 Lots of families don't even eat turkey for Thanksgiving, instead preferring beef tenderloin, pork tenderloin, spiral cut ham, or tamales for their main dish; perhaps your family even opts to lean towards a large brunch or egg breakfast recipes rather than lunch or dinner fare.
Perhaps your family has branched out from traditional fare for side dishes, too, and prefers creamed spinach, squash casserole, broccoli rice casserole, homemade cranberry relish (as opposed to the stuff out of the can), roasted sweet potatoes, spinach salad, or bread stuffing.  All of these are wonderful dishes and work well with most of the main dishes above.
For many of us, the best Thanksgiving recipes would have to include some apple pie, chocolate cream pie, perhaps key lime pie, or coconut cream pie.  And maybe your preferred bread is not a dinner roll, but some blueberry or pumpkin muffins!
(And if it's starting to bring on the overwhelm, help yourself out with our free downloadable Thanksgiving Dinner Planner guide.)
In light of these massively varied options, we have collected our favorite 25 Best Thanksgiving Recipes for your delight.
1.  Juicy Roasted Turkey – Succulent turkey roasted with seasonings and a few veggies with chicken broth and some champagne (if you have it on hand).
2. Maple Pecan Turkey Breast – If you only cook the turkey breast instead of the whole turkey, this sweet recipe calls for maple syrup and is topped off with chopped pecans.
3. Maple and Brown Sugar Glazed Ham – Glaze and heat a fully baked ham with a combination of maple syrup, brown sugar, apple juice, and seasonings.  Yum!
4. Pork Tenderloin with Dried Fruit Glaze – Roast this in the oven or in your crockpot (if the oven is full) with orange marmalade, raisins, dried apricots and red wine adding a full round of flavor.
5. Beef Tenderloin – You only need 5 ingredients for this tenderloin recipe; roast in the oven until mostly cooked, then sear in a skillet on all sides and let rest a few minutes before serving.
6. Corn, Poblano and Cheese Tamales – These are well worth the amount of work required, and make a great vegetarian dish for your dinner, too.
7. Pan Gravy – almost a holiday necessity if you're serving meat, right? And it's really such a simple side to make with this easy recipe.
8. Classic Green Bean Casserole – Yes, this is like the one your grandmother made with cream of mushroom soup, topped off with french fried onion rings.
9. Squash Casserole –  Yellow squash casserole baked in a creamy cheesy sauce and topped with Ritz (or your favorite) crumbled crackers. (Below photo by Jason Briscoe on Unsplash)
10. Spinach Pear Salad – baby spinach topped with diced pears and crumbled blue cheese, dressed with a balsamic vinaigrette and some chopped walnuts.
11. Oven Roasted Carrots – a super easy side dish that also transports easily; only 3 ingredients!
12. Cranberry Sauce – make your own with this 5 ingredient recipe full of fresh cranberries.  Make it a few days ahead and simply reheat before serving.
13. Mashed Potatoes – only 4 ingredients, and a really simple recipe to make your potatoes turn out creamy and smooth.
14. Slow Cooker Sweet Potatoes – cooked with applesauce, maple syrup, and cinnamon for a delicious and easy side dish.
15. No Knead Whole Wheat Dinner Rolls – these wheat rolls are light and fluffy and light on the work load, too.  No kneading or rolling or shaping; just spoon into muffin tins after rising.  Make them the day before and reheat just before serving.
16. Spinach and Artichoke Potato Casserole – sort of like a fancy potatoes au gratin with cheese, spinach, and artichoke hearts.
17. Cornbread Dressing – moist cornbread dressing (make the cornbread a day or two before to make things easy on yourself).
18. Sausage, Apple and Cranberry Stuffing – cooked turkey sausage with the traditional bread cubes, some chopped apple and dried cranberries!
19. Berry Muffins – moist delicious muffins that can be made with your favorite frozen berry (blueberry, blackberry, raspberry, …).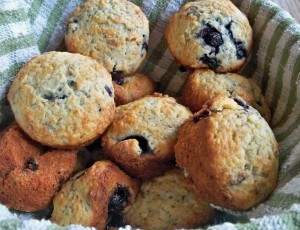 20. White Dinner Rolls – kneaded, shaped, brushed with butter – perfect traditional dinner roll.
21. Chocolate Cream Pie – make the chocolate variation of this vanilla cream pie for a remarkable dessert.
22. Pumpkin Pie – moist pumpkin pie, perfect for topping with a dollop of homemade whipped cream.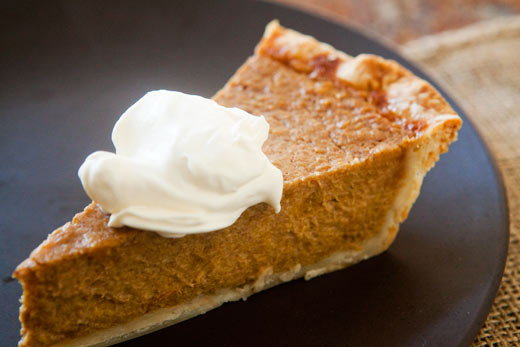 23. Coconut Meringue Pie – If the meringue part intimidates you, let the filling cool in the refrigerator, and then top the pie with a layer of whipped cream for an icebox pie.
24. Apple Crumb Pie – only 3 ingredients needed for the filling, and only 4 ingredients in the topping; keeping it simple, but super tasty.
25. Pecan Pie – sweet pecan pie, traditional southern fare (or mix it up with a Coconut Chocolate Pecan Pie).
Remember to collect favorite Thanksgiving recipes from family members as you gather this holiday season.  Before the original cooks, chefs or bakers have passed away or no longer remember the recipe, be sure to get the recipes written down and documented for sharing with family members and especially with future generations as they come along.  Preserving those family heritage recipes and holiday traditions is so valuable!

What are your favorite Thanksgiving recipes?  Do you think we left out some important ones?  What will your family be dishing up this holiday?  Please leave us a comment to let us know.
If you enjoyed the list, please consider sharing with your friends.