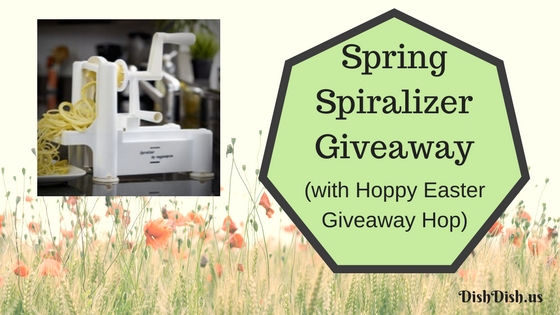 We are excited to offer this super fun spiralizer giveaway this month! Spring is here and summer right around the corner, with fresh vegetables galore available.
Whether you are eating the Whole30, Paleo, or Gluten-Free way, or simply looking for a way to jazz up your veggies and add a few more of them into your daily cooking / eating routine, a fresh veggie spiralizer is the way to go.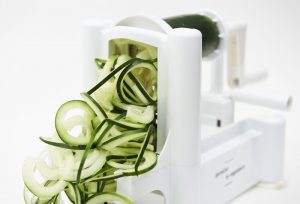 It's a great way to use veggies in recipes that call for pasta or noodles, or as a bed over which you can serve your favorite protein or sauce.
This spiralizer includes 5 different types of blades, too, for a variety of vegetables and cuts.  (We love that it comes with a box for storing the blades in, too, so it's easy to keep everything together).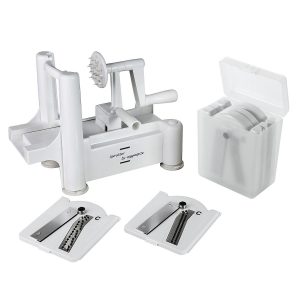 Here's a fantastic recipe to inspire you (if you aren't sure about using veggie noodles in a dish).
Zucchini Noodles with Sausage and Pesto
Pesto
1 clove garlic
2 1/2 cups fresh basil
1/4 cup pine nuts
1/4 cup olive oil
salt and pepper
Vegetable and Sausage Saute
1 tablespoon olive oil
2 packages (6 count) Johnsonville Sweet Italian Sausage
1 cup cherry tomatoes, sliced in halves
1 package cremini mushrooms, chopped
1 can cannelloni beans, drained and rinsed
1/4 onion, sliced
salt and pepper, to taste
Zucchini Noodles
4 yellow and green zucchini
1 tablespoon olive oil
salt and pepper
1/4 cup parmesan cheese, plus more for topping
Directions

Cut ends off the zucchini and put through a spiralizer or use a vegetable peeler so you get long spaghetti-like strands. Set aside.
Put garlic, basil, pine nuts and olive oil in food processor, and process; add salt and pepper. Set aside.
In a skillet over medium heat, add 1 tablespoon of olive oil. Cook sausage until browned, turning occasionally, about 8 minutes. Add mushrooms, tomatoes and onions to sausage in skillet. Stir until combined, creating almost a stew. Once vegetables are cooked through, add beans, salt and pepper, to taste.
Heat another large skillet and add a tablespoon of olive oil. Once heated, add zucchini noodles, stirring occasionally. Saute until zucchini is slightly softened, about 6 minutes. Add pesto to zucchini and stir until noodles are evenly coated. Add parmesan cheese to zucchini along with a touch of salt, if desired. Remove from heat.
Put noodles in large serving dish and top with vegetable mixture (use slotted spoon to drain liquid from topping mixture when serving). Give it a toss, and top with more parmesan cheese, if desired.
If you are inspired now, and would like to have your own spiralizer for handy veggie dishing, take a minute to enter the giveaway below and maybe you'll win one of your very own!
Additionally, we are participating in the Hoppy Easter Giveaway Hop, so below our giveaway is a list of other popular giveaways you can enter for a chance to win some other terrific prizes.