What are you thinking about as a unique Mother's Day gift idea?  Does she have a tired box of fading old recipe cards and papers, making it difficult to find a recipe she wants when she wants it?
Our Digital Recipe Album package (read on to save 40% with discount code below) will get mom's recipes digitized online, so the whole family can enjoy sharing and accessing her favorite recipes any time!
No more bothering mom with phone calls or texts about how to make her "famous" spaghetti sauce or chocolate pie.  Each family member can friend the others and view her recipe collection any time night or day in their Friends Cookbook list.
Now mom's recipes can be stored digitally, easy to create a shopping list or menu, add pictures and videos and notes, and share with family or friends – having fun with recipes!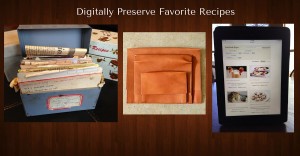 And now you can save 40% off this incredible gift idea with code MOMSDAY and get 50, 100 or 200 plus recipes entered into her online account.
Not only that, but we'll include our bamboo cutting board with your order, absolutely free!  We'll package the cutting board and gift certificate for the Digital Recipe Album package in a beautiful bag with ribbon for easy gift-giving.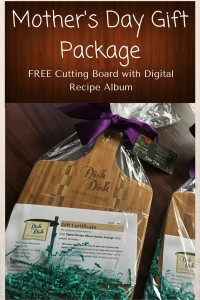 Ready to save mom some time, money and effort by getting her favorite recipes digitized and accessible online for her and the whole family?
Copy this code — MOMSDAY — and grab your discount and unique Mother's Day Gift today!