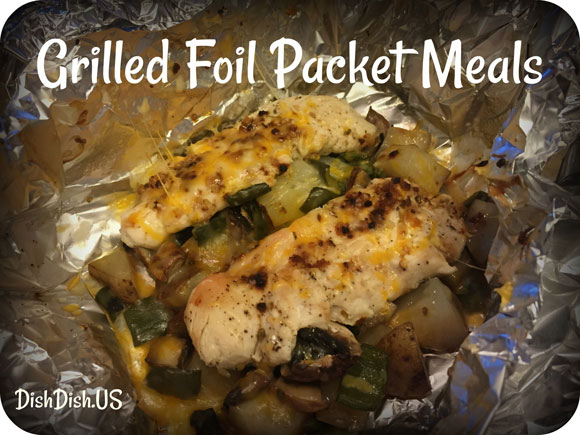 Seriously, I love the idea of foil packet dinners – similarly to why I enjoy making meals in the crockpot or all in one skillet meals.  Less clean-up is always better!!
Having not done grilled foil meals before, though, I was a bit nervous about trying it out (especially on the grill – even though it's a gas grill and I usually operate it with ease).
It seemed too good to pass up – the thought of the entire meal being wrapped inside this foil packet – cooking, getting all juicy and delicious with flavor, and serving up easily – all with almost no dishes to do afterwards.  Whew!
I had to give this a shot.  With a house full of boys, there had to be potatoes included in the mix, for sure.  So, I started with a base layer of vegetables – diced up potatoes, carrots, and some poblano peppers (because who doesn't enjoy the great southwest flavor of those?) as well as some sliced mushrooms (okay, my boys are a little bit picky, so I didn't put peppers and mushrooms in theirs, to be honest – sad face).
After pulling out a section of aluminum foil for each packet (large enough on which to place the base of vegetables with a couple chicken tenderloins laid over top with enough space to wrap the edges up and over the top), spread those out on the counter, all ready for the filling.
At this point, either toss all your vegetables together in a bowl, so they're well-blended for dividing onto each foil piece (or place a few of each vegetable in the portions you prefer on each foil piece).
It already looks so colorful.  I sprinkled some fajita seasoning over top (since I was using poblano peppers and mushrooms – this seasoning worked well for me).  Feel free to sprinkle with your preferred seasoning (perhaps Italian or Cajun or a personal favorite blend of herbs and seasonings).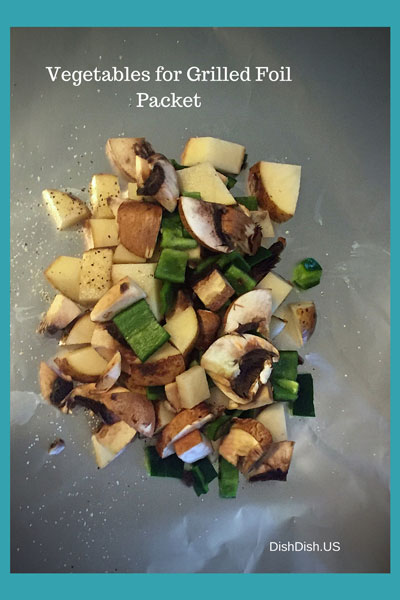 Next came the pieces of chicken (chicken tenderloins that I had already marinated for a half hour in a dab of lemon juice with fajita seasoning).  I laid the chicken pieces over top of the vegetables (two or three tenderloins, as you prefer).
Now it was easy to fold in towards the middle two of the edges, and then roll up the remaining two edges of the foil towards the center and twist them closed together.
I preheated the grill to medium-high heat, and placed the foil packets gently over the flames, setting a timer for 30 minutes.  After 30 minutes, I opened the packets, (careful to avoid the steam escaping them), and topped the dish off with some grated cheese (because I really like cheese – but this is obviously optional), and rolled the packets back up to give the cheese a few minutes to melt.
At this point, we weren't quite ready to eat dinner, because I had to run to the airport to pick up a family member, so I tossed the foil packets onto a cookie sheet and placed in the oven at about 200 degrees F to just keep them warm basically until we were ready for them (they already looked and smelled absolutely fabulous, though!).
When we opened them up, the chicken was tender, the vegetables fully cooked (without being burnt or too roasted), the flavors had blended magnificently (I'm sure our packets with the mushrooms and poblanos were the best!), and clean up was so simple that mama was very happy.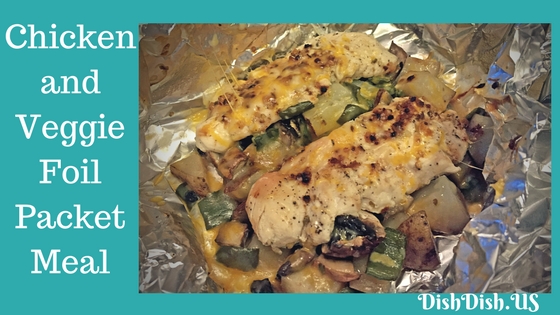 Seriously, this dish is a no-brainer for an evening when you know you're going to have distractions and need something simple to dish up for the whole crew.
The detailed "recipe" for this grilled foil meal (which is perfectly easy to modify with whatever vegetables, seasonings and/or meats you prefer):
Grilled Chicken and Vegetables Foil Packet Dinner (for 4)
8-10 chicken tenderloins (or other boneless, skinless chicken pieces flattened so they'll cook through evenly)
4 cups of diced vegetables (combination of potatoes, carrots, mushrooms, peppers, onion, squash, or greens)
seasoning of your choice (I used fajita seasoning, but cajun, Italian, savory, or a personal blend would work just as well)
salt and pepper (if not already present in the seasoning mix you chose)
shredded cheese (optional)
aluminum foil, and a grill (or you could bake in the oven at 350 degrees F if you don't have a grill)
If desired, and you have time, marinate the chicken pieces sprinkled with a little lemon juice and your seasoning of choice for 30 minutes before cooking.  Chop or dice vegetables.  Place approximately 1 cup of diced vegetables on each piece of aluminum foil, sprinkle with seasoning and/or salt and pepper, and top with chicken pieces, sprinkled with seasoning again.
Wrap foil up around edges on sides, then wrap over top of ingredients, folding foil together at the top in the middle so everything is enclosed.
Place on pre-heated grill (medium-high heat) and close grill lid or place in oven at 350 degrees F.  Cook for 30 minutes, then if desired, open packets carefully and top ingredients with a little shredded cheese, wrapping foil back in place and allowing to cook about 5 more minutes to completely melt cheese.
This kind of meal also makes a perfect dish for college kids or young adults looking for easy recipes for a healthy dinner that's quick and doesn't require a lot of clean-up (whether enjoying by themselves or with a group of friends).  Additionally, it's a great gluten-free, dairy-free (if you don't add cheese at the end) healthy meal!
Have you cooked foil packet meals before?  What are your favorite ideas or cooking tips to share with other newbies? We love hearing from you!
More Posts for You to Enjoy:
Picking the Best BBQ and Grill Tongs
5 Picnic Basket Dishes to Make
5 Easy Dinners for Your Busy Day