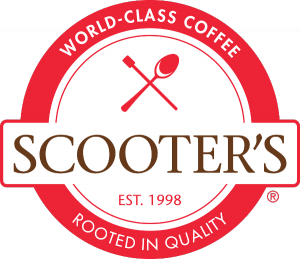 We are happy to share that Scooter's Coffee in Colleyville and Flower Mound, Texas, wants to celebrate their customers (including you!).
Aaaand since good things come in threes (right?), they're showing gratitude with three back-to-back specials:
Wednesday, May 20th: Half off all cool fruit smoothies!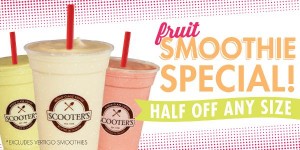 Scooter's has all sorts of Real Fruit Smoothies, Espresso Blenders (like White Mocha or Candy Bar), Fruit & Ice Blenders,
and even Purpose Smoothies (like the Green Tea Blender).
So, you don't have to just get coffee at the coffee shop any more.
Thursday, May 21st: Half off signature Caramelicious drinks!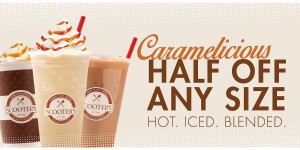 Friday, May 22nd: $1 medium drinks!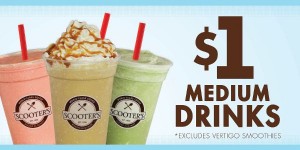 Besides the above-mentioned smoothies and espresso drinks, for your discounted medium drink on Friday, you could choose from their Traditional Tea Drinks (including Vanilla Bean Rooibos and Organic Moroccan Mint),
Tea Latte Drinks (like London Fog Latte), or simply Hot Chocolate or Caramel Apple Cider.
So many options – what will you choose?
 These offers are available only at Scooter's Coffee in Colleyville and Flower Mound, Texas!
Flower Mound store located at: 9211 Cross Timbers Rd, Flower Mound, TX 75028
Colleyville store located at: 7171 Colleyville Blvd, Suite 110, Colleyville, TX 76034
Keep up with all the specials from Scooter's Coffee on Facebook, Instagram, and Twitter.
*Disclosure: We received compensation in exchange for this sponsored post.  There are no affiliate links included.