Save Facebook recipes easily in your online cookbook with Dish Dish.  Grab recipes and import them easily with our Import Tool.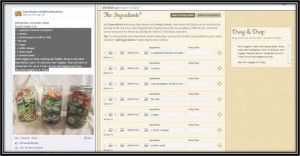 Simply add the Import Tool to your browser's toolbar, highlight recipe text from any website or Facebook page, and click on the Tool in the toolbar to open.
The recipe is imported into your online cookbook, where you can edit it, add photos, create shopping lists, access from anywhere, and share easily any time.
Organize your favorite recipes quickly and easily —  one place to find those favorites, edit them any time, share with family and friends, and use to create shopping lists or menus.
Get started saving and organizing favorite recipes today, and
please share the idea with a friend!
See us in the press:


1888PressRelease