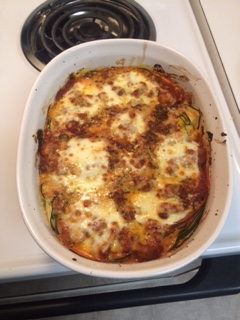 Prep Time: 30 min
Cook Time: 35 min
Number of Servings: 4
Brief Description
Delicious & Nutrious
Number of Servings:
Only quantities of ingredients are changed; recipe Directions below will not reflect those changes.
Ingredients:
3 pieces - zucchini, cut off stems and spiralize
12 ounces - fresh mozzarella cheese, sliced thinly
1/2 cups - cheese of choice, shredded
1 jars - pasta sauce
2 whole - italian sausages, scambled
Directions:
Preheat oven to 350. Grease small casserole dish (9" x 7"). Take the italian sausages and scramble them up and then mix in sauce. Wash the zucchini and use spiralizer to prep. Cut each zucchini into 3 sections after spiralizing. This will keep the zucchini from being too connected in the dish. Layer the thin strips of mozzarella cheese on the bottom of casserole dish, layer the meat/sauce mixture with the zucchini and then top with remaining mozzarella cheese & cheese of choice (I like Parmesan or italian mix). Cook in the oven for about 25-30 minutes. The cheese should be slightly brown and bubbly. Let dish sit for about 10 minutes after taking out of oven.