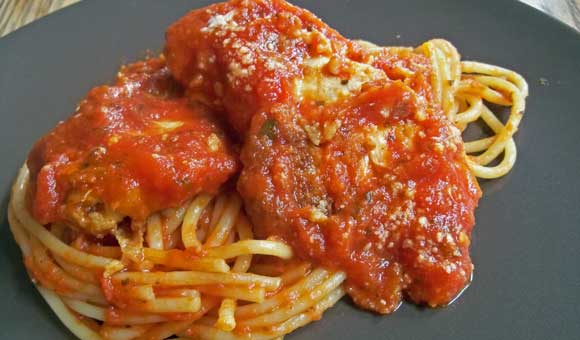 Prep Time: 20 min
Cook Time: 30 min
Number of Servings: 6
Brief Description
Chicken cutlets coated in parmesan and bread crumbs, served with pasta sauce.
Number of Servings:
Only quantities of ingredients are changed; recipe Directions below will not reflect those changes.
Ingredients:
1 cups - Italian bread crumbs
1/2 cups - parmesan cheese
2 whole - eggs
2 pounds - boneless, skinless chicken breast cutlets, pounded thin
2 tablespoons - extra virgin olive oil
1 pinchs - black pepper
1 pinchs - red pepper flakes
1/2 pounds - mozzarella or smoked mozzarella, sliced or shredded
1 pounds - spaghetti
30 ounces - spaghetti or marinara sauce
Directions:
Start a big pot of salted water to boil for pasta. Cook pasta according to package directions (or for about 10 minutes).
Beat eggs briefly in a shallow dish. In another shallow bowl or on a large plate, mix together the parmesan cheese, bread crumbs, black pepper and red pepper. Pound cutlets thin, so they will cook through quickly. (For more tender cutlets, pound thin, marinate with a little lemon juice, olive oil and Italian seasoning for 30 minutes at room temperature before cooking). Coach each cutlet in bread crumb mixture, then dip in egg, then press and coat in bread crumb mixture again.
Heat olive oil in a large skillet or frying pan over medium heat. When oil is sizzling hot, place chicken cutlets into skillet and cook for 4 minutes on each side.
When the cutlets are done, arrange in an ovenproof serving dish with a layer of spaghetti sauce on the bottom. Dot each cutlet with a little more sauce and some fresh mozzarella. Place platter under broiler to just melt cheese. (Alternatively, remove chicken from skillet, reduce heat to low, pour some of spaghetti sauce into bottom of skillet, place chicken pieces back in skillet, and top with a few drops of sauce followed by the mozzarella and place lid on skillet).
Take warm platter right to the table.
Toss drained spaghetti noodles with remaining sauce and serve as a side dish or with chicken pieces served on top.
Brief Description
Chicken cutlets coated in parmesan and bread crumbs, served with pasta sauce.
Print Recipe