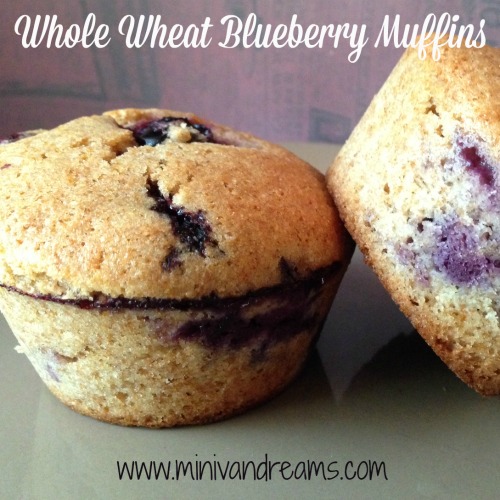 Prep Time: 5 min
Cook Time: 20 min
Number of Servings: 12
Brief Description
Delicious and easy to make whole wheat blueberry muffins.
Number of Servings:
Only quantities of ingredients are changed; recipe Directions below will not reflect those changes.
Ingredients:
1 1/2 cups - whole wheat flour
3/4 cups - white sugar
1/2 teaspoons - salt
2 teaspoons - baking powder
1/3 cups - canola oil
1 - egg
1/3 cups - milk
1/2 cups - all-natural applesauce, up to 3/4 cup, to taste
1 pints - blueberries, washed and picked over
Directions:
Preheat oven to 400 degrees.
Grease 12 muffin cups or use paper liners.
In large bowl, mix together flour, sugar, salt, and baking powder.
In a separate bowl, mix oil, egg, milk and ½ cup applesauce until smooth.
Slowly, add liquid mixture to flour mixture, stirring continuously.
Continue stirring until just moistened. (Note: you might have to add an additional ¼ cup of applesauce - the batter should be thick, similar to brownie batter).
Gently, fold in blueberries until incorporated.
Spoon the batter into the muffin cups or liners, filling them approximately ⅔ full.
Bake muffins at 400 degrees, until golden brown - approximately 20 minutes.
The muffins are done when a toothpick inserted in the center comes out clean.
Brief Description
Delicious and easy to make whole wheat blueberry muffins.
Main Ingredient:
blueberries
Notes
Nutrition calculated using My Fitness Pal's recipe calculator and ingredients used. Please recalculate nutrition with your specific ingredients.
Serving size: 1 muffin Calories: 180 Fat: 7 Saturated fat: .5 Trans fat: 0 Carbohydrates: 29 Sugar: 16 Sodium: 65 Fiber: 2 Protein: 3 Cholesterol: 20
Source
http://www.minivandreams.com/whole-wheat-blueberry-muffins/
Print Recipe