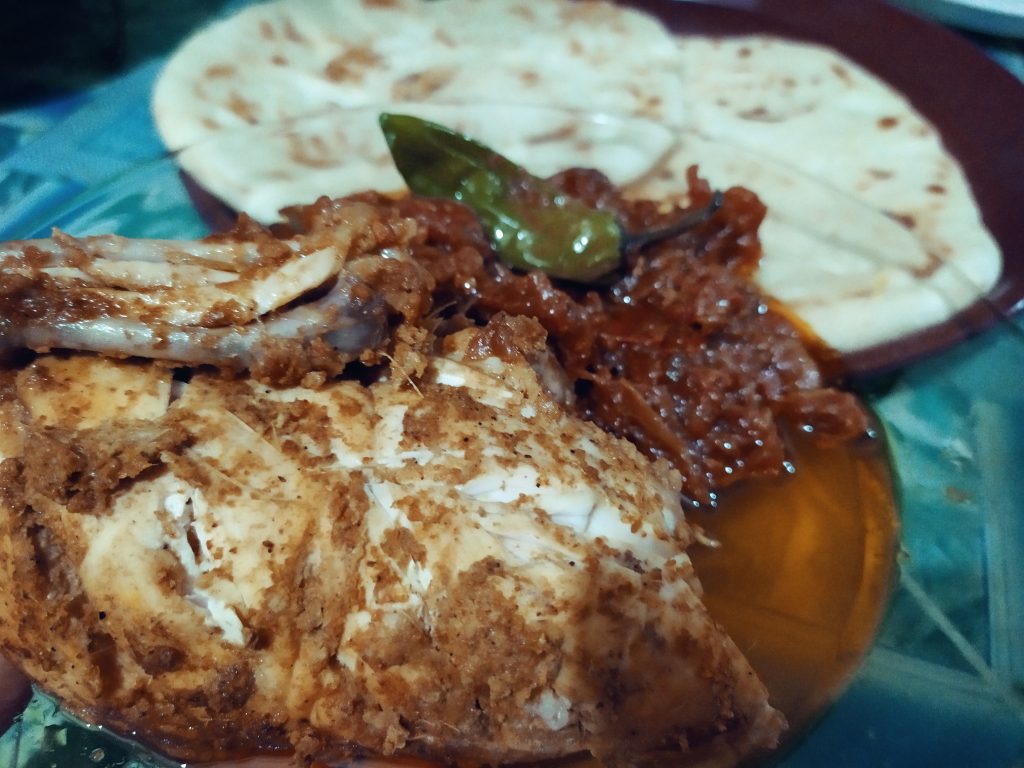 Prep Time: 15 min
Cook Time: 1 hour(s)
Number of Servings: 6
Brief Description
Juicy And Tender Steam Chicken With Slightly Spicy Masala
Number of Servings:
Only quantities of ingredients are changed; recipe Directions below will not reflect those changes.
Directions:
Directions: (For Chicken Marination)
-Take yogurt, add half packet of chicken masala, 4 table spoons of vinegar. one table spoon of ginger garlic paste. whisk it well.
-Marinate the whole chicken with this.
-Refrigerate the marinated chicken overnight or minimum 2 hours.
(For Masala Preparation)
-Add one cup of oil in a pot. let it hot. Then add sliced 8 large onions fry them until they turn out golden brown.
-Add 7 large tomatoes (cubes), add 6 sliced chillies, coriander and chicken masala and one table spoon of ginger garlic paste.
-Cook them on medium flame till the oil separates.
-Dish out the cooked masala.
(For Steam Chicken)
-Take the marinated chicken. Add 3 full cooking spoons of prepared masala inside the chicken.
-Tie the whole chicken with the help of thread.
-Add 2 cups of water in the same pot in which you have prepared masala, keep any steel cover inside the bottom of the pot then place the whole tied chicken over the steel cover. Cover it and steam them for 45 minutes
Brief Description
Juicy And Tender Steam Chicken With Slightly Spicy Masala
Main Ingredient:
Ingredients: -Whole Chicken: 1.5 Kg (with cuts) -Onions: 8 Large (sliced) -Tomatoes: 7 Large (cubes) -Green Chillies: 6 (sliced) -Whole Green Chillies: 3-4 -Yogurt: Half Cup -Chicken Masala: 1 Packet (any brand) -Fresh Coriander: 1/2 Cup -Ginger Garlic Paste: 2 Table spoons -Oil: 1 Cup -Water: 2 Cups -Vinegar: 4 Table spoons
Source
Food By Sobia Zahir
Print Recipe