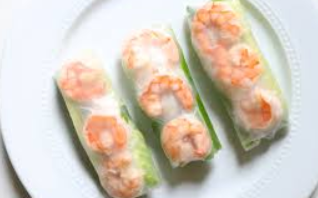 Number of Servings: 5
Brief Description
Nut free, dairy free, gluten free
Number of Servings:
Only quantities of ingredients are changed; recipe Directions below will not reflect those changes.
Ingredients:
10 whole - Spring roll rice paper wrappers
1 whole - large carrot , peeled and julienned
1 whole - Cucumber, julienned (or peeled)
1/3 cups - chopped purple cabbage
1 ounces - cooked rice noodles or rice vermicelli
1 whole - handful fresh cilantro, mint, and/or basil
5 whole - green lettuce leaves, tear in half
20 whole - medium cooked shrimp, peeled and slice in half length-wise
Directions:
Instructions for Summer Rolls:
Bring a medium saucepan of water to boil. Boil rice vermicelli 3 to 5 minutes, or until al dente, and drain.
Fill a large bowl with warm water. Dip one wrapper into the hot water for 2-4 second to soften. Lay wrapper flat. In a row across the center, place 2 shrimp halves, a handful of vermicelli, lettuce, sliced vegetables, and herbs (basil, mint, cilantro), leaving about 2 inches uncovered on each side. Fold uncovered sides inward, then tightly roll the wrapper, beginning at the end with the lettuce. Repeat with remaining ingredients.
Serve rolled spring rolls with fish sauce and/or hoisin sauce.
Instructions for Fish Sauce:
1. Combine water and sugar in a bowl. Use warm water for easier dissolving.
2. Add lime or lemon juice in increments until you like how it tastes. A good guide is it should taste like lemonade/limeade.
3. Add fish sauce in small increments until you like how it tastes. It should be a little strong since it goes on unseasoned food.
Brief Description
Nut free, dairy free, gluten free
Main Ingredient:
Shrimp and veggies
Notes
To add more vegetables to any meal, I add sauteed onions and mushrooms to lots of dishes including fried rice, omelettes, pasta, lasagna, etc.
Print Recipe