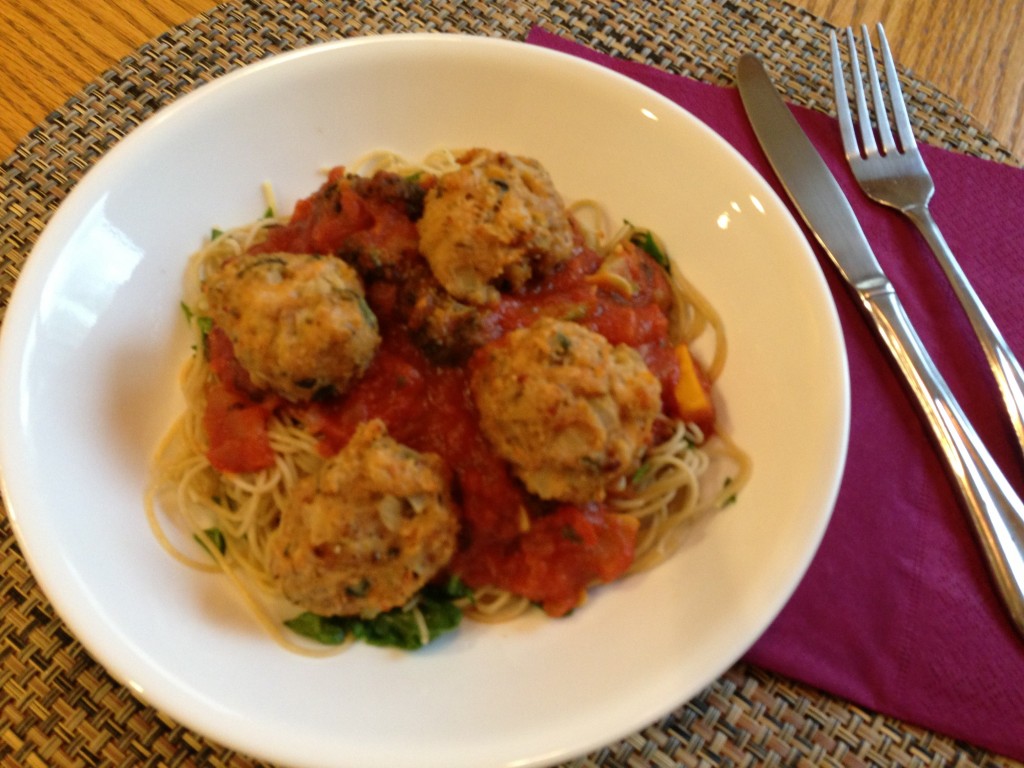 Cook Time: 30 min
Number of Servings: 4
Brief Description
Classic spaghetti dinner, with lots of wholesome veg and hearty meatballs.
Number of Servings:
Only quantities of ingredients are changed; recipe Directions below will not reflect those changes.
Ingredients:
- parchment paper (for lining cookie sheet)
1 tablespoons - canola oil
1 - medium onion
4 cloves - garlic
- Your favorite pasta veggies in any amount you likeRecommendations: mushroom, zucchini, summer squash, white beans, broccoli, eggplant, spinach, tomato, red/green pepper.
1 jars - store bought pasta sauceRead ingredients and avoid buying if it contains lots of sugar or high fructose corn syrup.
1 pounds - ground turkey
1 tablespoons - Basil (or 1/4 cup fresh basil)
1 tablespoons - Oregano (or 1/4 cup fresh oregano)
1/2 cups - whole wheat bread crumbs
1 tablespoons - tomato paste
1 - egg
1/2 teaspoons - salt
1/2 teaspoons - pepper
1 packages - pasta of choice. I recommend Whole wheat, quinoa or rice pasta
Directions:
Get out all your cookware, a large soup pot (for making the noodles), baking tray/cookie sheet, large sauté pan/pot for sauce, large mixing bowl, cutting board, knife
Get out all your ingredients and place them out on the counter.
Preheat oven to 400 and arrange oven rack to middle of oven.
Line a baking tray with parchment paper and lightly spray with PAM or paint some canola oil onto parchment paper.
Fill the large soup pot with water and bring to a boil (for your noodles), once the water begins to boil, turn the heat down to low until you are ready to cook your noodles right before serving.
Heat up the large sauté pan/pot over medium-low heat and add 1 TBS canola oil.
Meanwhile, chop the onion and garlic and begin to sauté, stirring frequently.
While onion and garlic are sauteing, chop all remaining veggies that you will put into your pasta sauce.
Remove half of the onion/garlic mixture and set aside in a large mixing bowl.
If needed add a little more canola oil to sauté pan and saute remaining veggies with the remaining onion and garlic for a few minutes, then add jar of pasta sauce. Stir and allow to simmer until you are ready to eat.
Add to the mixing bowl, turkey, basil, oregano, breadcrumbs, tomato paste, egg, salt, and pepper.
Mix together by hand, roll into a large ball and divide mixture in half multiple times to make 16 turkey meatballs.
Place meatballs on parchment paper lined cookie sheet and bake for 12 minutes, rotating every 4 minutes to prevent the bottoms from burning.
While meatballs are baking, bring the pasta water back to a boil and cook your pasta according to the package directions, drain and rinse with a little cool water and you can add a touch of oil to prevent them from sticking.
Bring it all home....
Place a small serving of pasta on your plate, top with a heaping scoop of veggie pasta sauce and top with a few turkey meatballs. Serve with a sprinkle of parmesan cheese if you like, sit back, relax and ENJOY your lovely Italian dinner!
Eat left overs tomorrow for lunch, and then make individual servings of noodles, sauce and meatballs and freeze them for a quick lunch or dinner later.
Brief Description
Classic spaghetti dinner, with lots of wholesome veg and hearty meatballs.
Main Ingredient:
Spaghetti, veg, turkey, beef,
Print Recipe