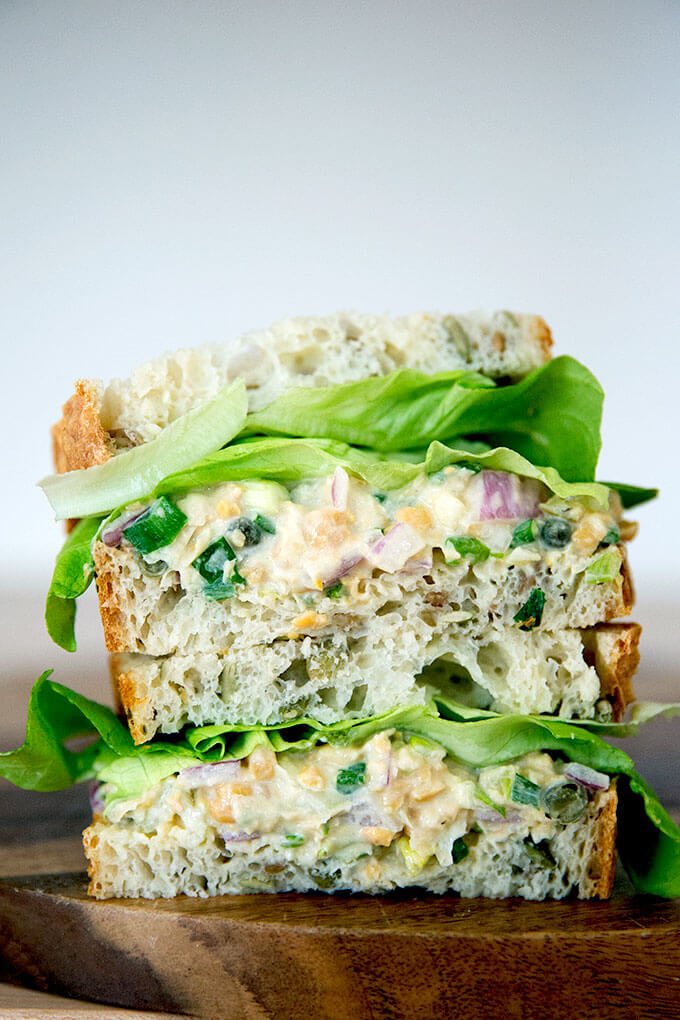 Prep Time:
Cook Time:
Number of Servings: 4
Brief Description
Sanwiches
Number of Servings:
Only quantities of ingredients are changed; recipe Directions below will not reflect those changes.
Ingredients:
1 - (15-ounce) can chickpeas, rinsed and drained
1 - tablespoon tahini
3 tablespoons - vegan mayonnaise or Greek yogurt, see notes above
1 - teaspoon Dijon or spicy brown mustard
1 - tablespoon maple syrup or agave nectar
1/4 - cup diced red onion
4 - scallions, thinly sliced
1/4 - cup diced celery
1/4 - cup diced pickle
1 - to 2 teaspoon capers, drained and loosely chopped (I like 2 tsp)
1 - tablespoon roasted unsalted sunflower seeds or pumpkin seeds, optional
8 slices - good bread
- Boston Lettuce for serving
- Healthy pinch of sea salt and black pepper
- Frest lemon optional to taste
Directions:
Place the chickpeas in a mixing bowl and mash with a fork, leaving only a few beans whole.
Add tahini, mayo or Greek yogurt, mustard, maple syrup, red onion, scallions (if using), celery, pickle, capers, salt, pepper, and sunflower seeds (if using) to mixing bowl. Mix to incorporate. Taste and adjust seasonings as needed. I always add more sea salt to taste and a good squeeze of fresh lemon, too. If the mixture is too dry, I'll add another tablespoon of Greek yogurt.
I like serving this salad on soft, fresh bread, but toast bread if you wish, and prepare any other desired sandwich toppings (such as lettuce, tomato, and onion). I've been using Boston lettuce alone, and I love it.
Scoop a healthy amount of the chickpea mixture (about ½ cup) onto one slice of bread, add desired toppings and top with second slice of bread. Repeat for additional sandwiches.
Brief Description
Sanwiches
Main Ingredient:
Chick peas
Prep Time:
Cook Time:
Source
https://alexandracooks.com/2020/01/08/vegan-tuna-salad-sandwich/?ck_subscriber_id=384152993
Print Recipe