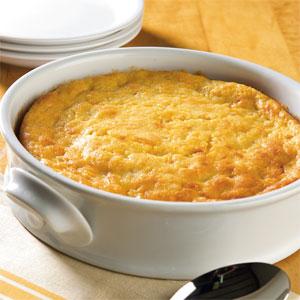 Prep Time: 5 min
Cook Time: 1 hour(s)
Number of Servings: 6
Brief Description
That delicious side dish you can't get enough of!
Pic is stretched out wide
Number of Servings:
Only quantities of ingredients are changed; recipe Directions below will not reflect those changes.
Ingredients:
1 boxes - Jiffy Cornbread mix
1 cans - creamed corn
1 cans - Corn, Drained
1 sticks - butter, softened
1 cups - Sour Cream
1 - Egg
Directions:
In a large bowl, combine all ingredients and mix thoroughly. Pour into a greased 3-qt. casserole dish. Cover and bake at 350°F for 55 – 60 minutes. Uncover and bake another 10 minutes until the top is crusty and golden brown.
Brief Description
That delicious side dish you can't get enough of!
Pic is stretched out wide
Notes
Optional: add diced peppers (jalapeno, red etc)
Print Recipe