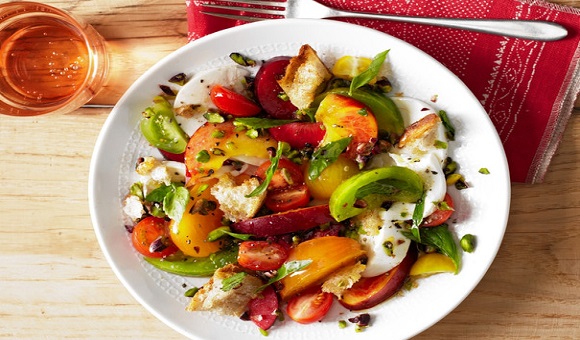 Prep Time: 15 min
Number of Servings: 4
Brief Description
Combines several favorite Italian salads
Number of Servings:
Only quantities of ingredients are changed; recipe Directions below will not reflect those changes.
Ingredients:
1 cups - Pistachios, roasted & salted, roughly chopped
- Juice of 2 lemons
2 tablespoons - Honey
5 tablespoons - Extra-Virgin Olive Oil
1 pinchs - Salt
1 pinchs - Black Pepper, freshly ground
2 1/4 cups - Bread, roughly torn
1 1/4 pounds - Heirloom Tomatoes, cut into wedges
1 - Ripe Nectarine, cut into wedges
2 - Ripe Plums, cut into wedges
10 ounces - Fresh Mozzarella, sliced in 1/4-inch rounds
8 leaves - Basil, roughly chopped
Directions:
1. Preheat oven to 375 degrees. Make vinaigrette: In a medium bowl, whisk together pistachios, lemon juice, honey and 4 tablespoons oil until well combined. Season with salt and pepper to taste. Set aside.
2. Make croutons: Toss bread with remaining oil and season with salt. Spread croutons in a single layer on a baking tray and bake until golden, 12-15 minutes.
3. In a bowl, toss tomatoes with stone fruit and season with salt. Divide mozzarella slices among plates and season with salt and pepper. Top with fruit mixture, drizzle with vinaigrette and garnish with basil and croutons. Serve immediately.
Brief Description
Combines several favorite Italian salads
Source
WSJ Off Duty, 7/13/2013, Chef Stephanie Izard, Girl & The Goat, Chicago
Print Recipe