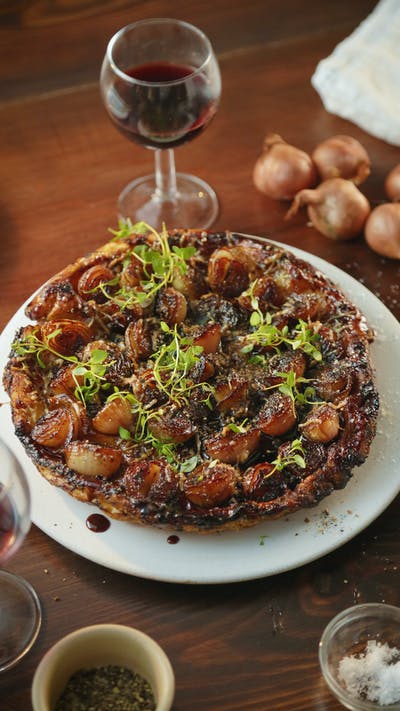 Cook Time: 40 min
Number of Servings: 8
Brief Description
This Onion Tarte Tatin combines all your favorite flavors into one fancy dish to impress
Number of Servings:
Only quantities of ingredients are changed; recipe Directions below will not reflect those changes.
Ingredients:
5 tablespoons - butter
5 tablespoons - fresh thyme, finely chopped, divided
1/2 - tbsp rosemary, fine chopped
1/2 - tbsp sage, finely chopped
1 - clove of garlic, minced
32 - small shallots, peeled, left whole, stem trimmed
1/2 - tbsp salt
2 - tbsp balsamic vinegar
1 - tbsp port
- strong cheddar, grated
- ready rolled puff pastry round
Directions:
Preheat oven to 350 F.
Place the butter in a frying pan, suitable to be used in the oven. Melt over a low/ medium heat, add in the garlic and chopped herbs (1 tablespoon thyme). Keep the heat low to ensure the butter does not burn.
Arrange the shallots cut side down in the pan, in a circular pattern. Season with salt and fry for 10-15 minutes, over a medium heat until caramelised and softened on the side in tact with the pan.
Add the balsamic vinegar and port to the pan and cook for a further 5 minutes until reduced and syrupy.
Scatter the cheese over the shallots and then place the puff pastry over the pan, completely cover the shallots and tuck the pastry in at the sides.
Place in the preheated oven and bake for 20- 25 minutes.
Allow to cool in the pan slightly for approximately 5 minutes. Place a large plate over the top of the pan and turn it over to remove the tarte from the pan. Garnish with fresh thyme and serve immediately.
Brief Description
This Onion Tarte Tatin combines all your favorite flavors into one fancy dish to impress
Source
https://www.tastemade.co.uk/videos/onion-tarte-tatin?fbclid=IwAR0joJm7rSA1Hc9RZRSsv7aU8q4oD6DBSVJWFYeMmJzGtxDCLgWM6LQWX14
Print Recipe