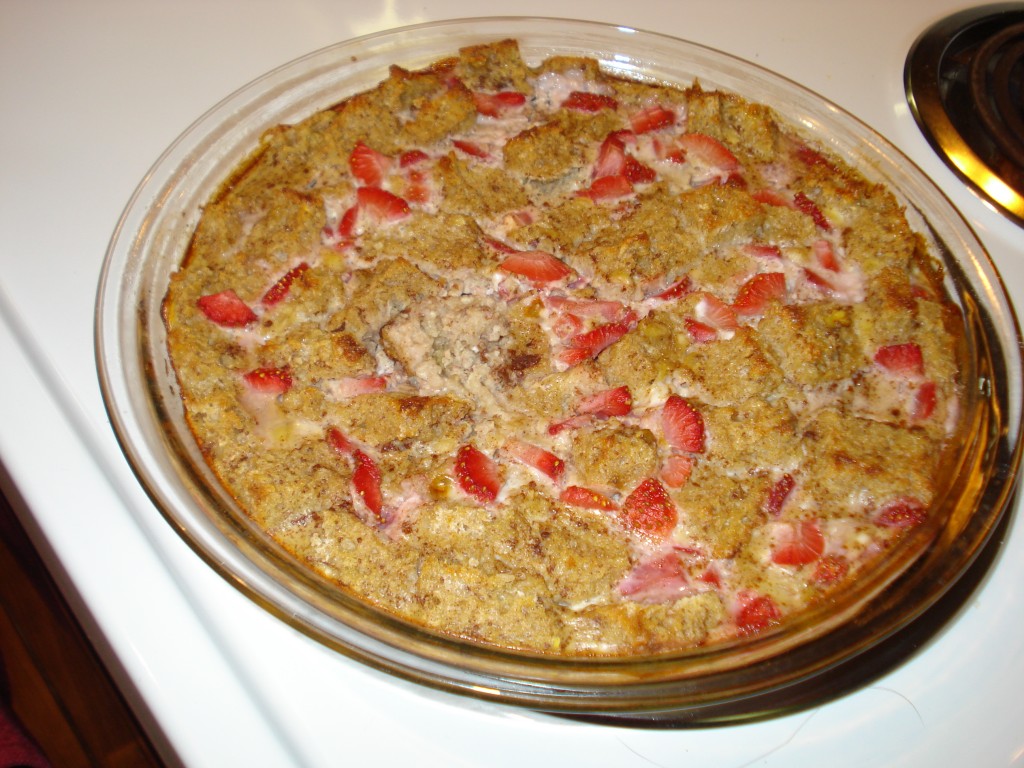 Prep Time: 10 min
Cook Time: 20 min
Number of Servings: 3
Brief Description
A very kid-friendly healthy breakfast option.
Number of Servings:
Only quantities of ingredients are changed; recipe Directions below will not reflect those changes.
Ingredients:
4 slices - bread (gluten-free or whole grain)
1 - banana
6 - strawberries
1/2 cups - almond milk
3 - eggs
1/2 teaspoons - cinnamon
1 1/2 teaspoons - vanilla extract
- maple syrup for serving
Directions:
1. Preheat oven to 375 degrees F. Lightly grease a small baking dish or individual ramekins with cooking spray. Place cubed bread in baking dish(es). Mix mashed banana, strawberries, milk, eggs, cinnamon and vanilla together in a medium bowl. Pour milk mixture over bread cubes and toss gently until bread is evenly coated.
2. Bake for 20-25 minutes or until set and cooked through.
3. Serve with a light drizzle of maple syrup and additional strawberries if desired.
Brief Description
A very kid-friendly healthy breakfast option.
Main Ingredient:
Bread, fruit
Notes
This can be assembled the night before and then just popped in the oven in the morning while you're getting ready. Use individual ramekins if needing to accommodate a child who needs to be gluten free or dairy free.
Source
Pinterest/Jeanette's Healthy Living
Print Recipe