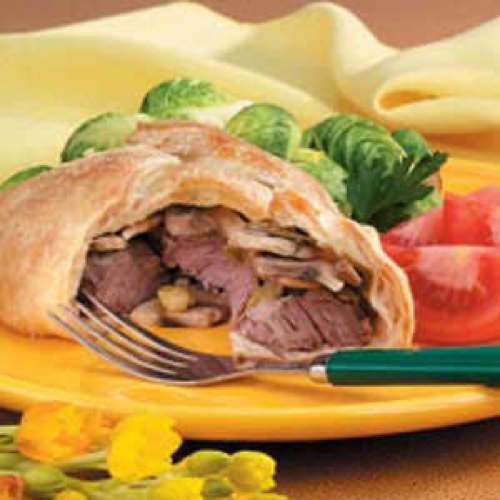 Number of Servings:
Only quantities of ingredients are changed; recipe Directions below will not reflect those changes.
Ingredients:
4 - pieces fillet steak , each about 3 inches by 4 inches
4 - shallots
2 ounces - mushrooms
2 tablespoon - butter
1/2 clove - crushed garlic
3 cups - plain flour
1 1/2 teaspoon - salt
6 ounces - butter
2 tablespoons - vermouth
- iced water
Directions:
Melt the 2 tablespoons of butter, sauté the shallots, mushrooms and garlic 5 minutes. Spread evenly over steaks. Cool.
PASTRY:
Sift flour and salt together, blend in butter, add vermouth and sufficient iced water to make a fairly soft dough.
Roll out about an 1/8 of an inch thick into rectangular shape on a lightly floured board. Divide pastry into 4 pieces. Put 1 piece of steak on half of each pastry square, dampen edges, fold pastry over sealing edges. Prick several times with a fork. Brush with beaten egg yolk. Lift carefully onto a baking sheet, bake in a moderate oven 40 - 45 minutes.