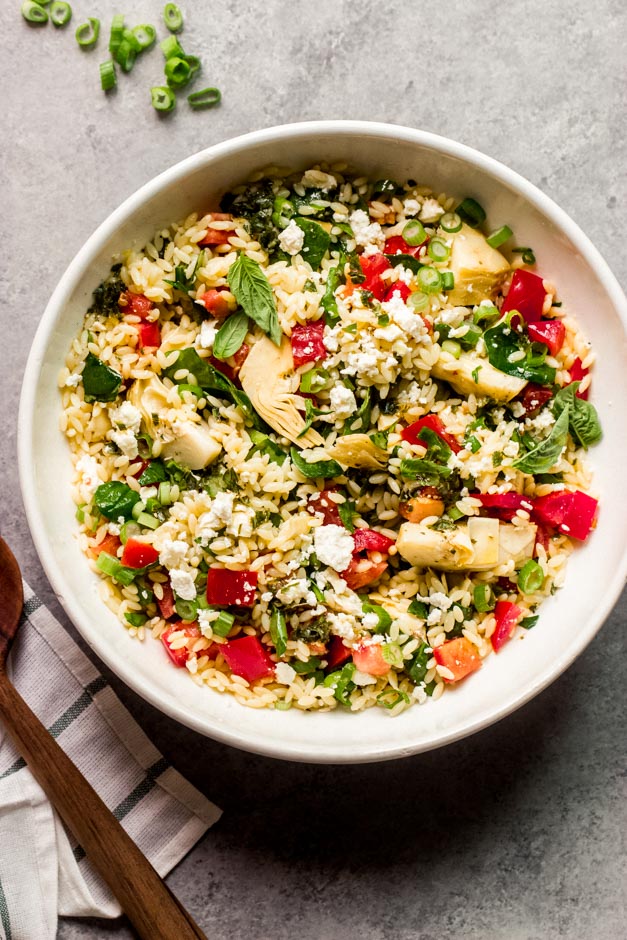 Prep Time:
Cook Time:
Number of Servings: 6
Brief Description
Orzo Salad
Number of Servings:
Only quantities of ingredients are changed; recipe Directions below will not reflect those changes.
Ingredients:
3/4 - cup dry orzo
1 - (6 – 10 oz.) jar marinated artichokes, drained + roughly chopped
1 - cup fresh spinach, roughly chopped
2 - plum tomatoes, chopped
3 - green onions, sliced
1/3 - cup crumbled feta
1/3 - cup olive oil
4 - tsp. fresh lemon juice
2 - tsp. white wine vinegar or apple cider vinegar
1 - Tbsp. fresh basil, minced
1 - tsp. lemon zest, optional
- kosher salt and fresh black pepper
Directions:
Cook orzo in salted water according to the box directions. Drain and rinse under cold water.
Meanwhile, make the vinaigrette by whisking together the olive oil, lemon juice, vinegar, basil, and lemon zest. Season with salt and pepper, to taste.
In a large salad bowl, combine the cooked orzo with artichokes, spinach, tomatoes, green onions, and feta. Pour the vinaigrette over salad and toss to combine. Cover and chill for 30 minutes before serving.
Brief Description
Orzo Salad
Category:
Prep Time:
Cook Time:
Notes
Leftovers: Leftover salad will keep refrigerated for 2-3 days in an airtight container
Source
https://www.littlebroken.com/artichoke-spinach-orzo-salad/
Print Recipe