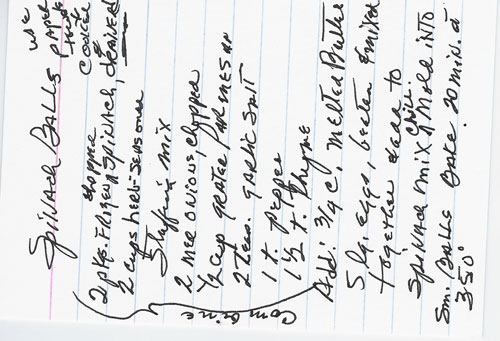 Prep Time: 1 hour(s)
Cook Time: 20 min
Number of Servings: 6
Brief Description
Baked cheesy spinach balls.
Number of Servings:
Only quantities of ingredients are changed; recipe Directions below will not reflect those changes.
Ingredients:
2 packages - frozen chopped spinach, cooked and drained
2 cups - herb seasoned stuffing mix
2 - medium onions, chopped
1/2 cups - grated Parmesan cheese
2 teaspoons - garlic salt
1 teaspoons - pepper
1 1/2 teaspoons - thyme
3/4 cups - melted butter
5 - large eggs, beaten
Directions:
Combine cooked, drained spinach (use paper towels to drain thoroughly) with stuffing mix, chopped onions, Parmesan, garlic salt, pepper and thyme.
Add melted butter and beaten eggs, mixing well. Chill.
Mold into small balls. Bake for 20 minutes at 350 degrees F.