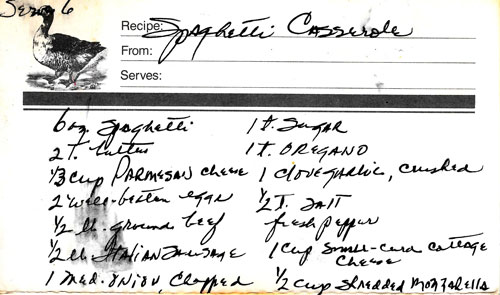 Prep Time: 30 min
Cook Time: 1 hour(s)
Number of Servings: 6
Brief Description
Baked spaghetti with sausage, cheese, and seasonings.
Number of Servings:
Only quantities of ingredients are changed; recipe Directions below will not reflect those changes.
Ingredients:
6 ounces - spaghetti
2 tablespoons - butter
1/3 cups - parmesan cheese
2 - well-beaten eggs
1/2 pounds - ground beef
1/2 pounds - Italian sausage
1 - medium onion, chopped
1/2 - medium green pepper, chopped
8 ounces - can whole tomatoes
6 ounces - can tomato paste
1 teaspoons - sugar
1 teaspoons - oregano
1 cloves - garlic, crushed
1/2 teaspoons - salt
- fresh pepper
1 cups - small curd cottage cheese
1/2 cups - shredded mozzarella cheese
Directions:
Cook spaghetti according to package directions; drain and toss with butter, parmesan and eggs. Spread spaghetti over bottom and sides of greased deep pie pan to form a crust.
Cook sausage and ground beef; add onion and green pepper. Drain off grease.
Cut tomatoes into small pieces; mix well with tomato paste, sugar and other seasonings. Heat through.
Spread cottage cheese over bottom of crust. Spoon meat mixture on top and bake at 350 degrees F for 20 minutes.
Sprinkle mozzarella over top and bake for 5 to 10 minutes longer.
Brief Description
Baked spaghetti with sausage, cheese, and seasonings.
Print Recipe