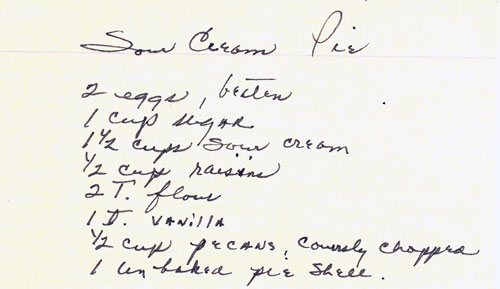 Prep Time: 20 min
Cook Time: 40 min
Number of Servings: 8
Brief Description
Raisins and pecans in a creamy pie.
Number of Servings:
Only quantities of ingredients are changed; recipe Directions below will not reflect those changes.
Ingredients:
2 - eggs, beaten
1 cups - sugar
1 1/2 cups - sour cream
1/2 cups - raisins
2 tablespoons - flour
1 teaspoons - vanilla
1/2 cups - pecans, coarsely chopped
1 - unbaked pie shell
Directions:
Add sugar to beaten eggs; blend well. Add sour cream.
Dredge raisins in flour and add to mixture. Add vanilla and nuts; mix well and turn into unbaked pie shell.
Bake at 375 degrees F for 10 minutes; reduce heat to 350 degrees F and cook for 30 minutes longer.
Brief Description
Raisins and pecans in a creamy pie.
Print Recipe