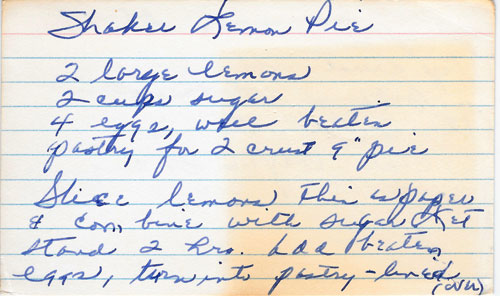 Prep Time: 2 hour(s) 15 min
Cook Time: 35 min
Number of Servings: 8
Brief Description
Sliced lemons baked in a pie.
Number of Servings:
Only quantities of ingredients are changed; recipe Directions below will not reflect those changes.
Ingredients:
2 - large lemons
2 cups - sugar
4 - eggs, well beaten
- pastry for 2 crust 9-inch pie
Directions:
Slice lemons thin as paper and combine with sugar. Let stand for 2 hours.
Add beaten eggs, turn into pastry-lined pie pan; make slits in top crust.
Bake at 450 degrees F for 15 minutes; then bake at 375 degrees F for 20 minutes.
Cool before slicing.
Brief Description
Sliced lemons baked in a pie.
Prep Time:
2 hour(s) 15 min
Print Recipe